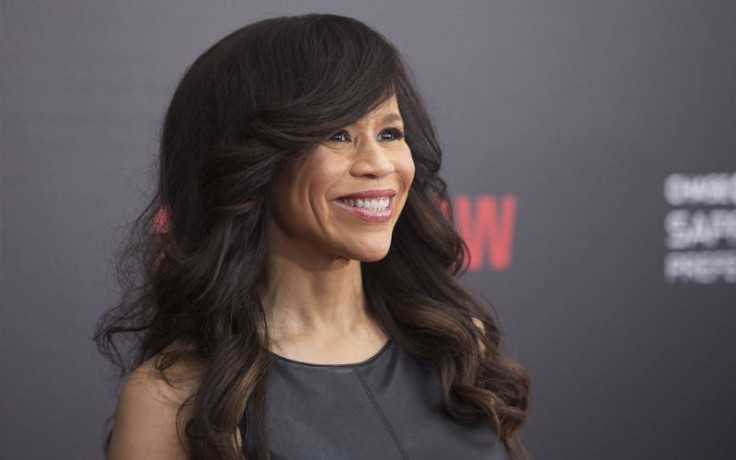 Rosie Perez allegedly threw a hissy fit and probably "Soul Trained" her butt out of "The View." According to a report from Daily Mail the actress quit the ABC talker following Kelly Osbourne's racist remarks about Latinos. During the heated Hot Topics segment, Perez jumped at Osbourne's thought to stop her from making such a heinous statement. The outlet claims "ABC execs cornered Rosie during the break and demanded she apologize to Kelly in the last segment of the live broadcast." Producers also demanded that she tweet out an apology to the purple-haired personality. After the message was posted on social media, Rosie left her dressing room and left the show, opting out of appearing on the final episodes of the show this season. All this week, the shows have been pre-taped with Perez notably absent.
Now, another unnamed source is calling BS on the report that Rosie quit and her days off had already been approved before the scandal. "Rosie's days off were scheduled the day before Kelly was a guest on 'The View,'" a source told E! News. "What she said at the end of the show and what she tweeted to Kelly were entirely genuine. No one made her do anything. And she and Kelly spoke after the show." It doesn't completely make sense as these are the final episodes Rosie will appear in as she was let go from the talk show after only one season. Another conflicting source to the outlet said her last day was always scheduled to be August 5, while a third insider said there were no screaming matches between Rosie and producers. Nicolle Wallace, who's contract was not renewed for another reason, has also been absent, but not as many episodes as Perez.
This whole debacle started when the ladies on the panel were talking about Donald Trump and his poll results amongst the Latino community. The former "Fashion Police" panelist said: "If you kick every Latino out of this country, then who is going to be cleaning your toilet, Donald Trump?" The girls jumped in disagreeing with her with Osbourne stuttering: "In the sense that...you know what I mean? But I'm saying that in L.A., they always…" Rosie added: "Latinos are not only...," then Kelly said: "No, I didn't mean it like that! Come on! I would never mean it like that! I'm not part of this argument." At the end of the show Perez sided with Osbourne and tried to clarify the situation stating the following: "I want to apologize to this young woman once again for being overly sensitive. Kelly Osbourne is on our side and I was sensitive. My disdain should go to only Donald Trump, so I'm sorry, darling."
© 2023 Latin Times. All rights reserved. Do not reproduce without permission.