Russia has been using thermobaric or vacuum bombs in its attacks on Ukraine. The UK Ministry of Defense confirmed this after the United Nations reported they have seen videos of Russian forces moving vacuum bombs into Ukraine during its invasion.
According to Fox News, US Ambassador to the United Nations, Linda Thomas-Greenfield addressed the UN on March 2 as she accused Russian President Vladimir Putin of a brutal campaign against Ukraine. "We have seen videos of Russian forces moving exceptionally lethal weaponry into Ukraine," she said while speaking at the UN. "That includes cluster munitions and vacuum bombs – which are banned under the Geneva Convention, " she added.
Meanwhile, House Speaker Nancy Pelosi held discussions with Ukraine President Volodymyr Zelensky on Wednesday on the possible use of vacuum bombs by Russia in their invasion. Speaking with the media Pelosi told reporters, "We talked about weapons that Putin is using, weapons prohibited in the Geneva Conventions, including cluster bombs and vacuum bombs, which caused severe suffering."
Ukraine's ambassador to the United States, Oksana Markarova had previously told reporters about Russia's use of thermobaric weaponry on their country saying Putin and his forces should pay a heavy price for their brutal attack on Ukrainians.
What is a thermobaric or vacuum bomb?
The UK Defense Ministry explained that a thermobaric weapon system, also called vacuum bombs have been riding a controversial thin line due to the kind of devastation it causes compared to conventional explosives. It disperses explosive material over a wide radius using surrounding oxygen as fuel when it detonates. This creates a large blast wave capable of not only destroying infrastructure but causes excruciating death to anyone exposed.
A person exposed to a vacuum bomb suffers significant damage to their internal organs as it sucks out the air out of a person's lungs causing it to fill with liquid and eventually lead to rupture.
On the other hand, Pentagon Press Secretary John Kirby, recently said that he has not seen clear indications of Russia's use of such weaponry on Ukraine although, it has used vacuum bombs in Chechnya in the 1990s.
As of now, the US and the UK have joined forces to provide more than $1.4 billion in security assistance to Ukraine in its fight against the Russian invasion. This includes shoulder-fired anti-aircraft surface-to-air missile defense systems such as the Javellin, Stinger, and MANPAD missiles.
Britain has also pledged to send Ukraine the Starstreak high-velocity portable missiles, considered to be the fastest surface-to-air missile in the world, traveling at over three times the speed of sound. Defense Secretary Ben Wallace announced this Thursday, to help Ukraine shoot down Russian military aircraft. The missiles can be attached to a vehicle or shoulder-mounted.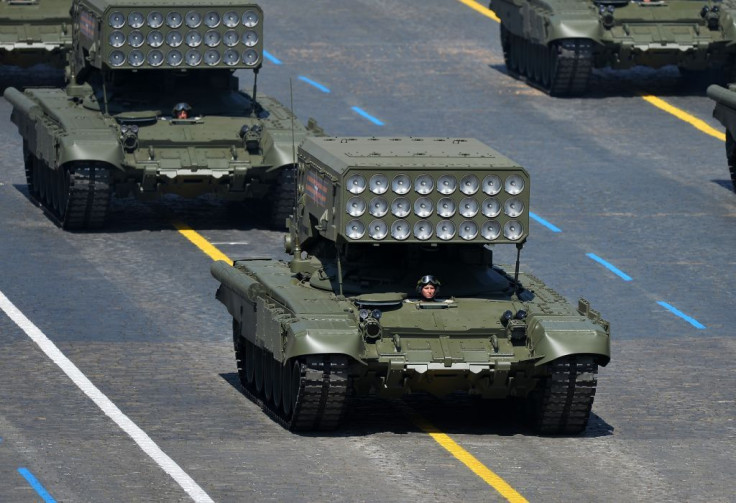 © 2023 Latin Times. All rights reserved. Do not reproduce without permission.