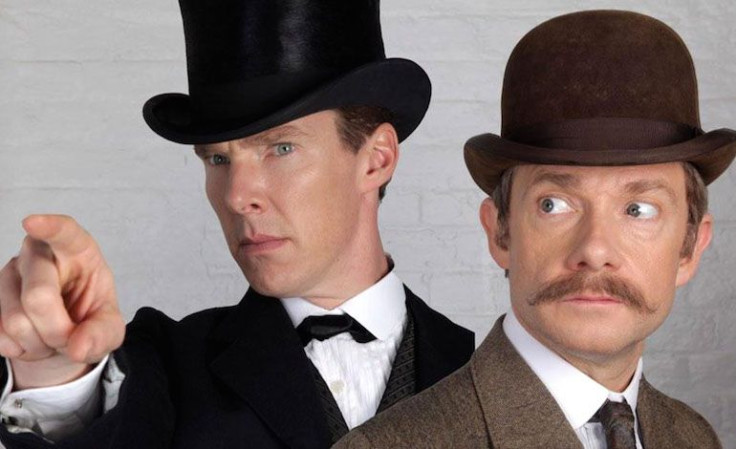 "Sherlock" co-creator Steven Moffat recently revealed the series fourth season will be finally begin filming Spring 2016, but before that fans will get a one-off special episode set in the Victorian era. That episode will reunite stars Benedict Cumberbatch and Martin Freeman as detective duo Sherlock and Watson and is expected to arrive Christmas 2015.
No official synopsis has been released for the coming Christmas special but we do know that it is to be based on the famous short story "The Red-Headed League." This summer at San Diego Comic-Con we were treated to a first look full clip, showing Holmes and Watson returning to 221b Baker Street after successfully completing an investigation, and dealing with a peeved Mrs. Hudson.
Last month we got a bit more footage from the latest BBC trailer featuring all its upcoming fall and winter programs, which started off with a short scene of Holmes lighting a pipe and saying, "From the beginning, then." We also see Amanda Abbington who was introduced in season three as Mary Morstan, but this appears to be from the crime drama series "Cuffs" rather than "Sherlock."
Now, the BBC has released another full-length trailer showing off our protagonist in the victorian Christmas special. "The stage is set. The curtain rises. We are ready to begin," Cumberbatch's Sherlock Holmes says at the start of the video.
The trailer features everything we could hope for from a "Sherlock" victorian special including Deerstalker caps, cool facial hair, horse-drawn carriages, pipes, eerie fog-filled alley ways and much more. We also see a much more serious Sherlock Holmes, and the tone seems a bit darker than previous seasons. Check out the all-new trailer below along with the BBC fall and winter programs trailer and the first look video of the "Sherlock" victorian special.
© 2023 Latin Times. All rights reserved. Do not reproduce without permission.