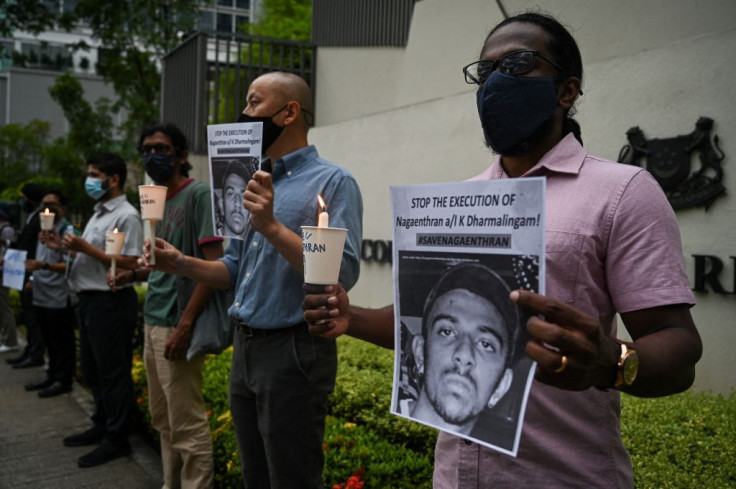 The Singapore court Tuesday ordered a stay of execution of Nagaenthran K. Dharmalingam, after he tested positive for COVID-19. Activists and human rights groups started the appeal to halt his execution due to his intellectual disability.
The execution that was supposed to be held Wednesday morning was stayed and will remain in place until a new appeal is submitted.
Dharmalingam was arrested in April 2009 for smuggling 42.7 grams or 1.5 ounces of heroin into Singapore to pay his debts. He has spent more than 12 years in prison. He was 21 back then when he attempted to bring drugs by strapping them to his thigh. He was sentenced to death the following year.
The case of Dharmalingam, now 33, has caught international attention from activists and experts. The outrage and urge to save a man's life against inhumane punishment due to being an intellectually disabled person has been their aim from the start. The case has been described as a "sickening" and a "systemic failure" led by the state.
Dharmalingam's lawyers and a group of supporters are all protesting as a step towards saving him from the Singapore ruling. They have said that the country is violating international law by executing a person with mental incompetencies. All submitted legal appeals, and a petition to the President for clemency was unsuccessful.
Dharmalingam's lawyers stood with statements that he should not have been sentenced to death under Singaporean law. A psychologist assessed his IQ to be 69, proving that he is incapable of understanding things around him. The defense stated that he had severe attention deficit hyperactivity disorder (ADHD), borderline intellectual functioning, and severe alcohol use disorder during his trial.
"He has not a very good sense of what is happening around him," according to N. Surendran, Malaysian lawyer who is representing Dharmalingam's family and adviser to Malaysian NGO Lawyers for Liberty. "He is disoriented. He's got no real clue of what is going to happen to him."
However, the Singapore High Court still ruled that Dharmalingam knew what he was doing and upheld the death sentence.
According to Surendran, his family was shocked when they saw his current state. They were allowed to go to Singapore while observing the Covid travel regulations. His mother, brother, sister and cousin managed to meet Dharmalingam in Changi prison. "They see a completely different person, they're not able to get through to him," he added.
Activist of anti-death penalty, Kirsten Han, started a campaign that raised more than $19,000 Singapore dollars to pay for the family's flight transportation and accommodation. She firmly believed that the execution order was emblematic, cold and clinical.
Activists started the protest last week outside Parliament in the Malaysian capital of Kuala Lumpur.