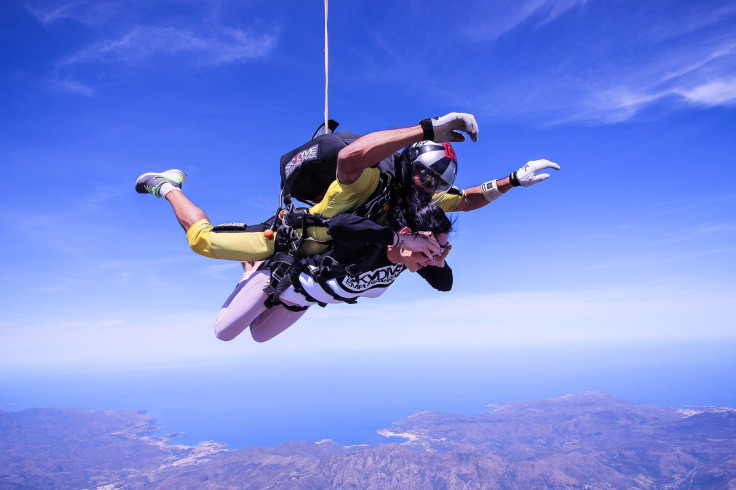 A skydiver reportedly fell to his death after his parachute malfunctioned while he was skydiving in Florida on Monday, Oct 3.
The unidentified male skydiver was reportedly skydiving with the company Skydive DeLand at DeLand Municipal Airport, about 43 miles north of Orlando, shortly before 12 p.m. on Monday, Oct 3. While skydiving, the victim reportedly suffered a parachute malfunction after his parachute failed to open causing him to fall to his death, CBS News reported.
Following the incident, the DeLand Police Department shared a photo of the scene on Twitter. The photograph that was shared by the police showed a plane with propellers surrounded by emergency vehicles and first responders on the tarmac of DeLand Municipal Airport.
According to Skydive DeLand's website, the company offers various training programs with "instruction from the most active professional instructors and coaches in the world." The company has operated out of DeLand Municipal Airport since 1982, NBC News reported.
No additional information was released by the company or the police department in connection with the tragic accident.
In a similar but unrelated incident, a Florida man who was attempting to break a Guinness world record for skydiving reportedly died in a freak accident while preparing to do a tandem jump from 41,000 feet over Memphis, Tennessee late last year, Latin Times reported.
Thomas Noonan III, 47, the chief technical director of Everest Skydive, who has several certifications as a United States Parachute Association (USPA) tandem instructor and advisor, died after he lost consciousness due to hypoxia while he was attempting to jump from a height of 41,000 feet over Memphis, Tennessee, on Oct 16, 2021.
Noonan and his friend Jim Wigginton, 72, along with two solo jumpers, an oxygen manager, a videographer, a jumpmaster, and the pilot, were about to attempt to break the Guinness world record for the highest tandem skydive when Noonan's foot got stuck while heading out of the plane.
However, before Noonan and Wigginton jumped, the oxygen system malfunctioned and everyone in the plane began to experience hypoxia, a state in which oxygen is not available in sufficient amounts. After the plane landed, Noonan was transported to a nearby hospital but was pronounced dead on arrival.
© 2023 Latin Times. All rights reserved. Do not reproduce without permission.