South Korean fictional survival drama, "Squid Game," in which contestants play deadly children's games to win cash prizes, has been declared as Netflix's "biggest-ever series at launch."
Since premiering on the streaming site on Sept. 17, the series has been viewed by 111 million people, the platform, which has 209 million subscribers, told CNN Tuesday.
Earlier this year, the streaming giant announced that 82 million households watched "Bridgerton," which made its debut on Christmas, in the first 28 days. And now, the South Korean show has surpassed that figure. The show has topped on the platform's Top 10 lists in 94 countries. It's Netflix's first Korean show to bag the No. 1 spot in the US.
Minyoung Kim, Netflix's vice president of content for Asia Pacific, excluding India, said, "When we first started investing in Korean series and films in 2015, we knew we wanted to make world-class stories for the core K-content fans across Asia and the world." Kim shared that the series has broken through beyond their wildest dreams, and it gave Netflix more confidence that their global strategy is going towards the right direction.
"Squid Game" is now a pop culture phenomenon and has generated memes as well as Halloween costume ideas. The show has become so popular that it was reimagined for an event at the Korean Cultural Center in the United Arab Emirates (UAE).
The event happened in its Abu Dhabi office Tuesday and involved games actually played in the show sans the bloodshed and murder, according to CNET. Two teams of 15 players, sporting T-shirts featuring the show's logo, played Dalgona candy challenge, red light green light, and paper-flipping games Marbles and Ddakji. The event's staff wore pink costumes to look like the guards in the show's deadly games.
There were some prizes, but there was no mention of the same life-changing 45.6 billion won ($38.1 million) prize the contestants, who are in need of money, compete for in the series.
This isn't the first time that people have played the game in real life too. At a Belgium school, the children played the red light, green light stop-start game and the ones who won beat up those who lost.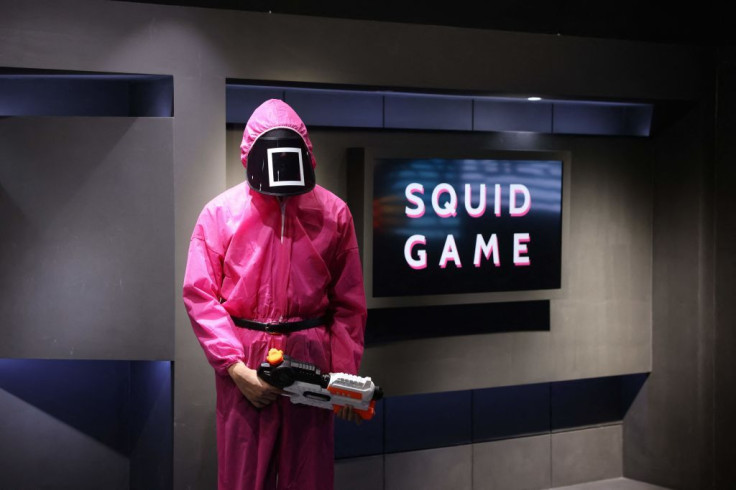 © 2023 Latin Times. All rights reserved. Do not reproduce without permission.