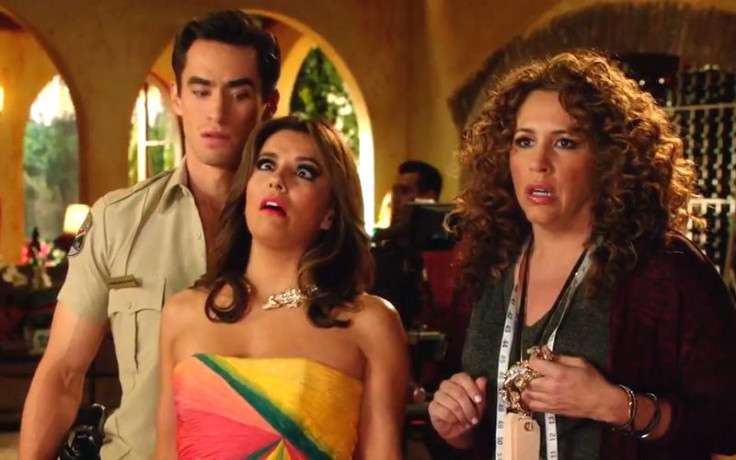 The new NBC comedy called "Telenovela" starring Eva Longoria premiered Monday night with "The Voice" lead-in to maximize its sampling before its official January 4th debut. This project was picked up straight-to-series with a 13-episode order that would allow writers and actors to work with more freedom and take creative risks. "Telenovela" is about a telenovela star called Ana Sofia, played by the "Devious Maids" producer. She is a complete diva and loves to be in the spotlight and have everyone cater to her. For this actress, when the cameras stop rolling, the drama doesn't necessarily stop, especially after a former lover joins the cast of her project called "Las Leyes De Pasión." That hottie is real telenovela heartthrob Jencarlos Canela who was seen on projects from sister-network Telemundo like "Más Sabe El Diablo" and "Pasión Prohibida."
After watching the 1-hour special preview the peacock network aired, we have more of an idea of what this show is all about and there are some things that work and other things that don't. Let's start off with what we did like: 1. Eva Longoria: The "Desperate Housewives" actress is an ace at comedy and plays the part extraordinarily. Longoria takes us back to her days as Gabrielle Solis and turns up the physical comedy, with the best effort to make the viewers laugh with the material she is given. Eva is a true star and NBC couldn't have cast a more fitting actress to play Ana Sofia, but there's only so much she can do with the scripts writers turn up.
2. The Telenovela Setting: Writers got it right when they set up these characters in this melodramatic world. Every character they set up are actual characters from the soaps we watch on the Spanish-language networks. Take for example one of the hunky leads played by Jose Moreno Brooks, who is too aware of what he looks like and wants to look his best for the cameras. What about the blonde bimbo played by Izzy Diaz? How many of those Miami telenovelas have we not seen where there are actresses that look just like her? Amaury Nolasco totally looks like someone they would cast as a villain in a Mexican telenovela because of his hard features.
3. The Hair And Makeup Is On Point: Let's talk about the hair, especially the one that Isabela (Alex Meneses) sports. It's so over-the-top that it's ah-mah-zing. Her makeup, the overly accessorized outfits is just what a typical telenovela villain looks like. Did you guys confuse her with Jacqueline Andere too? We had to do a double take on her, because she looks just like her. Now let's get to the not so fun part of this new comedy and the three things we didn't love about it: 1. Obvious Jokes: We feel that the comedic writing is not so strong on this program. As we were watching the comedy, we were giving it the benefit of the doubt and laughing at their corny jokes, just because. As the episode moved along we stop trying because they were just too obvious. These are the jokes that are cheap and not that creative. We know they can do better.
2. Way Too Over-The-Top: We understand "Telenovela" is a comedy and it is made to make audiences laugh, but too much is too much. We have the telenovela within the show that is extremely over-the-top as a parody to the genre, then we have the show itself that is also over-the-top. There is no line between the show and the show within the show and it's a little tiring as a viewer. Take for example how "Jane The Virgin" handles its own telenovela within a telenovela. Yes, Jane's live is a melodrama in itself, but the tone is completely different than when Rogelio De La Vega is filming scenes for the fake "The Passions Of Santos." We guess the advantage the CW has is that it's a dramedy and its a 1-hour show, which allows it more time to develop storylines. That's where the writers have to get more creative and think outside of these limits.
3. Limited World: The world is limited to the production of this telenovela and we are not sure the rest of the characters are compelling enough to follow. All we wanted to do is watch scenes with Eva Longoria because her character was the more drawn out, but what is her purpose? Is she a washed out celebrity? A has-been? Is her telenovela ending soon? Low-rated? We know she wants to be the star, but how important is she? A character like Valerie Cherish on "The Comeback" has so many dimensions and layers writers can tell stories forever, but with Ana Sofia, what is more to know? Overall "Telenovela" had a promising start that we know will only get better with time as the writers find the voice for each of the characters. If you missed the 2-episode preview, you can catch up on the NBC website, NBC app or Hulu. Best of all, the peacock has a third episode already available. "Telenovela" is also made available in Spanish through SAP and more episodes will premiere starting January 4 at 8:30pm.
© 2023 Latin Times. All rights reserved. Do not reproduce without permission.