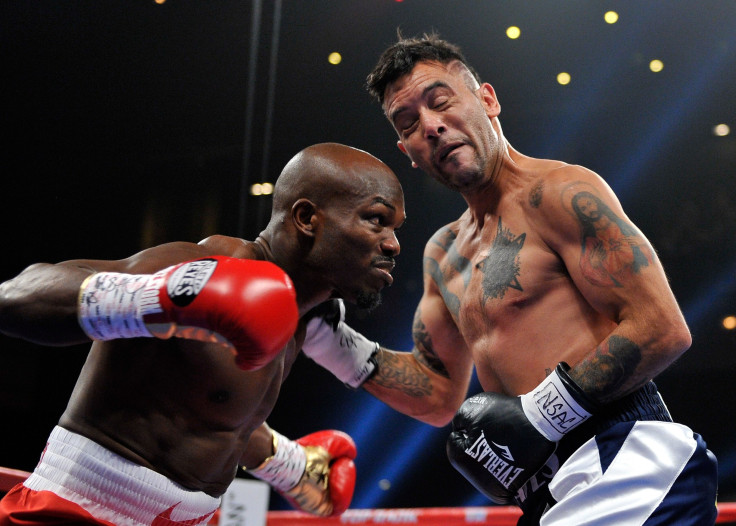 LAS VEGAS – Across the street from the MGM Grand hotel where Amir Khan will be taking on Devon Alexander, there will be another welterweight fight featuring a defending champion as Timothy Bradley squares off against Diego Chaves at the Cosmopolitan Hotel. There will be no title on the line when the two men step into the ring, but the fight should prove to be entertaining as they only have three combined losses between them and each fighter needs a victory to return respect in the weight class that should lead to another title shot.
Timothy "Desert Storm" Bradley will look to rebound after a loss to Manny Pacquiao in April which cost him the WBO welterweight title. The bout was the second between the two fighters, the first of which Bradley won in a very controversial decision that appeared to everyone watching that Pacquiao had won the fight. Pacquiao easily won the rematch however, dominating Bradley for the first time in his career in a 12-round unanimous decision.
Bradley lacks the power necessary to score a convincing knockout against Chaves, but he has proven that his training is second to none and that he is definitely among the elite fighters in the welterweight division. Bradley will look to combat Chaves' "dirty style" of boxing that he has become known for, and control the fight early and often with shots to the body.
Diego "La Joya" (The Jewel) Chaves hails from Buenos Aires, Argentina and has a reputation as a street fighter. His rough and rugged style has been known to cause problems for finesse boxers but he will need to control his own mistakes as his last fight ended in a disqualification against Brandon Rios for "extracurricular activity." Chaves now has a reputation as a dirty fighter and he will need to fight clean in order to go the distance against Bradley.
Chaves has three knockouts in his last five fights and will need that power to knockout the skilled Bradley in the ring. Bradley has gone toe to toe in the past and won, but if he chooses to do that against Chaves it could prove to be disastrous. If Bradley is sharp tonight, his speed should overcome Chaves' power.
The 12-round fight is scheduled for 10:00PM EST at which point the first of two undercards begins. We anticipate the main event between Bradley and Chaves to start around 11:05PM EST. Bradley is a 12 to 1 favorite with Bovada.lv having him at -900 on the moneyline. Chaves is a 7 to 1 underdog with a +550 moneyline. Vegas oddsmakers believe that Bradley will win the fight by 12-round decision or technical decision. The fight can be viewed live on HBO and can be live streamed here.
Main Event Welterweight Fight: Timothy "Desert Storm" Bradley 31-1 (12) vs. Diego "La Joya" Chaves 23-2 (19)
Round 1:
Bradley looks sharp in round one. Moving well. Going to the body. 10-9 Bradley.
Round 2:
Chaves is warned for a foul to the face of Bradley. This is the "dirty style" we talked about before the fight. Chaves better be careful or he could lose by DQ again. Bradley is using his reach well. Chaves landing a rhythm jab. Bradley keeping Chaves at a distance. 10-9 Chaves
Round 3:
Bradley comes out with a flurry of punches. He's going toe to toe with Chaves which could be dangerous for him, but he's the agressor this round. Bradley working the jab. Chaves landed a shot late. 10-9 Bradley
Round 4:
Bradley and Chaves are brawling in this round. Standing toe to toe and trading blows. It's brutal but brilliant to watch. Each man is taking the other's best shot. Great round. Bradley lands more punches but devasting round. 10-9 Bradley.
Round 5:
Bradley and Chaves again are standing toe to toe in the center of the ring. Trading blows. Bradley's eye is swelling. Both fighters look fatigued and it's only round 5. They continue to tangle up and trade shots. This is a great fight to watch! Bradley lands a jab. Both fighters are swinging at each other. 10-9 Chaves.
Round 6:
Bradley looks winded and before the fight we heralded his conditioning and fitness. We know he did not do his vegan diet before this fight like he did against Pacquiao. Maybe that has something to do with it. His eye is definitely swollen and his vision looks impaired. He's running from Chaves. 10-9 Chaves
Round 7:
Bradley is keeping his distance more this round and when they do engage, he ties Chaves up. Bradley fighting smarter this round, but no punches being landed. A lot of posturing. Bradley lands two shots to the body. Bradley wins the round. 10-9 Bradley
Round 8:
Bradley lands a nice left and right combination. He's doing much better this round. Moving in and out. Landing a punch on Chaves and then getting out quickly. Bradley wins the round with the better strategy. 10-9 Bradley
Round 9:
Bradley punching with power this round. Taking Chaves best shot, but Bradley is taking it and still coming in strong. Bradley lands a nice left. Another left for Bradley. Tough fight for both fighters, but Bradley seems to be taking control. Right to the body by Bradley. 10-9 Bradley.
Round 10:
Some judges have Chaves winning that last round on the scorecard. Bradley is efficient. His face is swelling but he's landing his jab. Chaves lands a nice right. Chaves lands another right, catches Bradley low. Braldey lands a right up high. Both fighters trading blows again. Very close round. We'll give this one to Chaves. 10-9 Chaves
Round 11:
Low blow by Bradley to start the round. Referee calls for a timeout for Chaves to gather himself. Bradley's left eye is almost completely closed. Bradley has landed more punches but another close round. We wonder if the low blow will have any effect on the judges. Chaves falls at the end of the round, but on a slip. No knockdown. 10-9 Bradley
Round 12:
Bradley's eye looks awful. Unbelievable swelling. Bradley is landing some combos. He's trying to win this last round to leave no doubt in the judges minds. Another close round, did Bradley do enough to win the fight and the round? We think yes. 10-9 Bradley
Final Results:
Our Score: 116-112 Bradley
Judge 1: 116-112 Chaves
Judge 2: 115-113 Bradley
Judge 3: 114-114 Draw
The Fight Ends in a DRAW!!!! Wow we did not see that coming. What fight was judge Julie Lederman watching? Even her father had the fight going to Bradley. Thanks for reading.
© 2023 Latin Times. All rights reserved. Do not reproduce without permission.