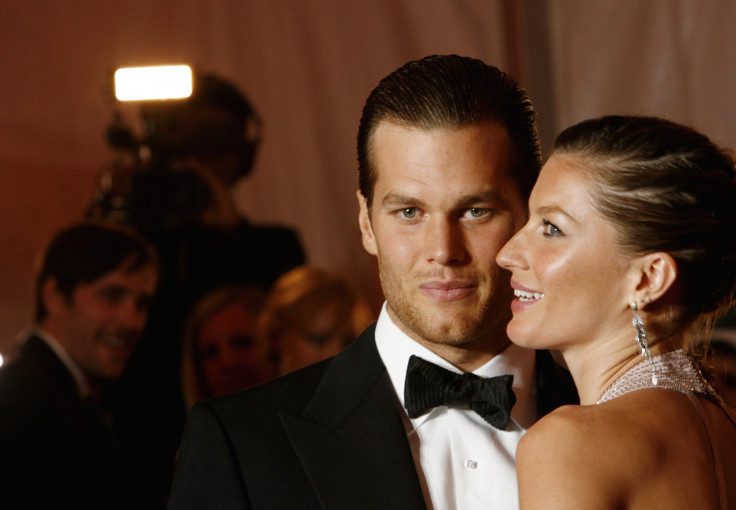 Tom Brady does not know he would vote for Donald Trump, but he does keep the presidential candidate's campaign swag in his locker room. The New England Patriot quarterback told WEEI that he has been friends with Trump since 2002, and acknowledged that the candidate had sent him a red " Make America Great Again " hat via owner Robert Kraft, which Brady keeps in his locker. Brady in Trump's bromance started with a shared appreciation of hot girls and golf. It grew from there.
"I've known him since 2002 where I judged one of his beauty pageants, imagine that. I was a judge at a Miss USA pageant in 2002, so I've known him a long time," Brady said, adding that the two had "spent a lot of time golfing together" and that Trump is "a helluva lot of fun to play golf with."
For what it's worth, Trump has endorsed Tom Brady in his fight against the NFL. But does Brady's affection amount to an endorsement of Trump in his quest for the presidency? As in, would Brady vote for him?
"I don't know. Am I going to vote for him? That's a very good question," Brady said, adding that "It's pretty amazing what he's been able to accomplish as an entrepreneur and then as a television star and now running for political office."
An Endorsement, Or Just Short Of One?
Brady has never issued an endorsement, but he's no stranger to politics -- another trait he has in common with Trump. He has said in the past that he is registered as an independent, so he wouldn't be able to vote for Trump in the Republican presidential primary.
"Maybe at one point I thought that might be something I want to do, but I think you take a step back and you realize the impact that you can have as a citizen," Brady said in a 2012 interview, according to The Hill.
Yet Brady has also refrained from speaking out on most political issues. In Brady's home state of Massachusetts, Trump has been the target of protests after making comments about Mexican immigrants and about women that many found offensive, proposing a crackdowns on illegal immigration and opposing abortion rights.
Obama Tension?
Brady has been the target of some Obama administration teasing, starting in January when quarterback bombed a press conference defending his team over "deflate gate."
"The one thing I can tell you is that for years, it's been clear that there is no risk that I was going to take Tom Brady's job as quarterback of the New England Patriots. But I can tell you that as of today, it's pretty clear that there's no risk of him taking my job either," Obama's press secretary said in January.
That teasing doesn't compare with Trump's past insults (he supported the birther conspiracy), or Obama's retort (the President trashed him at a White House Correspondents Dinner in 2011).
But the tension escalated in April when Brady missed a White House event celebrating his team's super bowl victory. That fuel speculation ( and criticism ) that Brady was protesting the administration, since he had accepted 3 such invitations from the George W. Bush White House.
More recently, Obama used Brady's court victory in the Deflate Gate case to advocate for union labor.
"Even Brady's happy he's got a union. They had his back. You know if Brady needs a union, we definitely need unions," Obama said of Brady, who was represented by the NFL player's union in the case, and successfully overturned a four-game suspension.
Trump also celebrated Brady's legal victory.
Yet while the White House had teased Brady after the deflated balls scandal, Trump was rooting for his friend from the beginning.
© 2023 Latin Times. All rights reserved. Do not reproduce without permission.