A Scranton, Pennsylvania truck protest convoy bound for the nations' capital made its way to Harrisburg on Wednesday afternoon as truckers called for legal recourse for the death of Ashli Babbitt, an Air Force veteran shot dead by Capitol police officer Lt. Michael Byrd during the Jan. 6 insurrection.
"We are going to let our voices be heard," convoy organizer Bob Bolus said per the Daily Beast, noting his group is protesting against foreign oil imports, COVID-19 restrictions, and the critical race theory. "You are not taking any more of our rights away. You are giving rights to illegals. It's OK for them to do but not for us as American citizens."
"We want the pipeline put back into service," he continued. "We want fuel back in our country. We want to go back to where we were before instead of giving the rights to foreign countries to put the screws to us because they are feathering their own nests."
The convoy, which got off to a slow start after Bolus' 18-wheeler truck got two flat tires, appeared to be far smaller than he might have anticipated. Reports suggest the caravan was made up of eight vehicles, including the truck driven by Bolus, five pick-up trucks, an SUV, and a sedan, according to PennLive.
In his first comments after revealing he was the cop who shot Babbitt, Byrd contended that the unarmed rioter was "posing a threat" to the House of Representatives when she attempted to climb through an opening in a barricaded door where a glass panel had broken out.
Babbitt was among the pro-Trump rioters who had gathered in a hallway outside the Speaker's lobby and invaded the Capitol, which forced a joint session of Congress to evacuate the House and Senate chambers. The ruckus temporarily derailed efforts to confirm President Joe Biden's Electoral College victory, according to CNBC.
"Her movement caused the discharge to fall where it did," he said in an interview with Lester Holt that aired Thursday evening. "I had been yelling and screaming as loud as I was, 'Please stop, get back, get back,' You're ultimately hoping your commands will be complied with, and unfortunately they were not."
His comments came three days after the U.S. Capitol Police Department confirmed that it would not discipline Byrd following an internal investigation of the Jan. 6 shooting. Accordingly, the Department of Justice said in April that it would drop any criminal charges against the officer.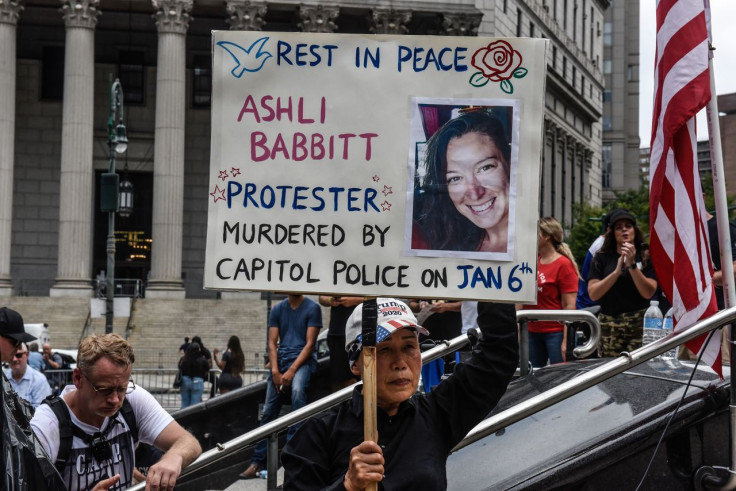 © 2023 Latin Times. All rights reserved. Do not reproduce without permission.