Donald Trump now has a new person to blame on for the increasing number of coronavirus cases in the U.S. and it is none other than the country's top infectious disease expert, Dr. Anthony Fauci.
According to media personnel who listened to the campaign call which took place on Monday, President Trump criticized Fauci and called him a "disaster," while claiming that people are tired of coronavirus disease.
"People are tired of COVID. I have these huge rallies," Trump said in the call. "People are saying whatever. Just leave us alone. They're tired of it. People are tired of hearing Fauci and all these idiots ... Fauci is a nice guy. He's been here for 500 years."
Trump's comments surfaced after Fauci's appearance on a television show that aired on Sunday. During the show, Fauci said that he was not surprised that Trump got infected by the novel coronavirus, considering that he is always seen in crowded places with almost no one wearing a face mask or covering.
"Every time he goes on television there's always a bomb, but there's a bigger bomb if you fire him. This guy's a disaster," Trump said the next day of Fauci's appearance on the television.
He further undermined his expertise by saying that if he had listened to Fauci, the death toll could have been 700,000 or 800,000. In a tweet, he also mocked Fauci's address to the people of Washington earlier this year.
Fauci rarely appears on the television and in fact, the White House has almost always blocked him from appearing on the interviews. Fauci claimed this during his recent appearance on the show.
The infectious disease expert has slammed Trump before was using one of his clips out of context, in which he appears to be praising Trump for his coronavirus management and response. He claimed that his clip was used by the Trump campaign to promote the president's political endeavors without his permission.
"By doing this against my will, they are in effect harassing me," Fauci had said, after telling that there is "not a chance" that he would resign from his role if the Trump campaign continues to feature him.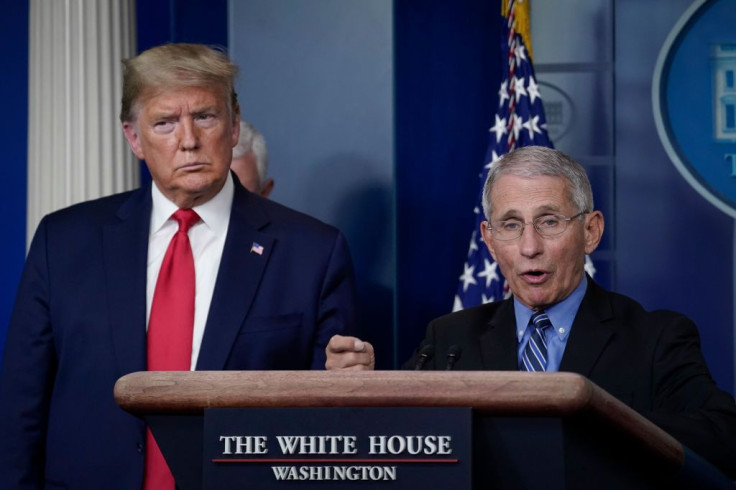 © 2023 Latin Times. All rights reserved. Do not reproduce without permission.