Health Secretary Matt Hancock admitted to breaking social distance guidelines after a CCTV footage caught him passionately kissing his senior aide in the corridor outside his office.
He apologized for "letting people down" after images of him with Gina Coladangelo, whom he appointed, surfaced.
Mr. Hancock's position has been described as "untenable" by Labor, which has pushed the PM to fire him.
However, the health secretary stated that he will remain "focused" on the pandemic.
An online tabloid said Mr. Hancock and Ms. Coladangelo, both married with children, were photographed in the Department of Health in early May.
"If Matt Hancock has been secretly having a relationship with an adviser in his office - whom he personally appointed to a taxpayer-funded role - it is a blatant abuse of power and a clear conflict of interest," Labour Party chairperson Annaliese Dodds said per Financial Times.
"The charge sheet against Matt Hancock includes wasting taxpayers' money, leaving care homes exposed and now being accused of breaking his own Covid rules," the chairperson mentioned.
"His position is hopelessly untenable. Boris Johnson should sack him," Dodds added.
Ms. Coladangelo's appointment was "made in the usual way" and "following correct protocol," according to a government spokeswoman.
"I accept that I breached the social distancing guidance in these circumstances. I have let people down and am very sorry," Mr. Hancock, a 42-year-old father of three, said in a statement.
"I'm still committed [to] helping the country recover from this pandemic, and I'd appreciate privacy for my family in this personal matter."
A few hours after an online tabloid's report was published on Friday morning, the health secretary canceled a visit to a Covid vaccination center near Newmarket Racecourse in his West Suffolk district.
Hancock has been criticized for his management of the coronavirus pandemic in the United Kingdom for months, CNN reported. Still, he has managed to keep his job.
Former Chief of Staff to Prime Minister Boris Johnson, Dominic Cummings, has accused him of bungling the country's coronavirus testing program, as well as lying about the dire situation in care homes and the lack of personal protective equipment (PPE). The allegations have been refuted by Hancock.
In a marathon seven-hour hearing before members of parliament in Westminster last month, Cummings delivered a damning account of the government's coronavirus response, accusing Downing Street and Hancock of misleading the British public.
Last week, the divisive figure, who resigned in November amid the UK's deadly second wave of the pandemic, stepped up his criticisms of Hancock.
"As the PM said himself, Hancock's performance on testing, procurement, PPE [personal protective equipment], care homes etc was 'totally f**king hopeless,'" Cummings said in a tweet, sharing a screenshot of what appears to be a WhatsApp exchange with Johnson just days after the UK went into its first full lockdown amid a worsening outbreak.
Cummings said he texted the prime minister on March 27, 2020, the same day Johnson and Hancock both tested positive for the coronavirus, to tell him the pace of coronavirus testing was too slow and that the health minister had misled the government about his ability to speed it up.
According to the screenshot shared on Cummings' blog and on Twitter, Johnson responded: "Totally f**king hopeless."
"I don't think so," Hancock said last week when asked by Sky News about the "hopeless" claim. Johnson has not commented on the WhatsApp messages, and his official spokesman said the Prime Minister does not plan to engage with every allegation made.
The commotion that had engulfed Hancock had gotten to the point that it had attracted the Queen's notice.
In her first in-person meeting with Prime Minister Boris Johnson in 15 months, the Queen alluded to the health secretary's woes, telling Johnson that she had been speaking to "your secretary of state for health, poor man."
It's unclear whether the remark was made in response to the heavy burden of managing the country's coronavirus response or as a response to Cummings' criticism of Hancock.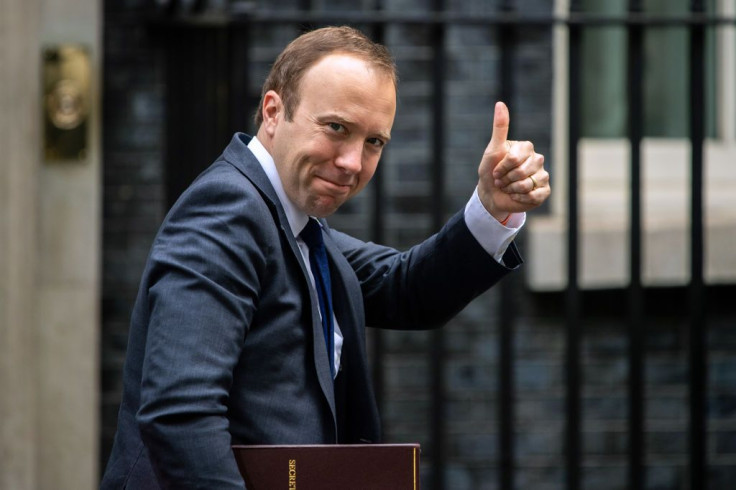 © 2023 Latin Times. All rights reserved. Do not reproduce without permission.