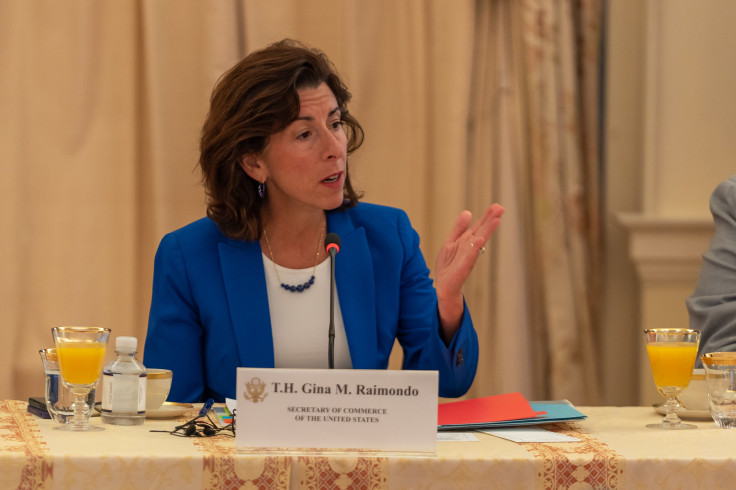 Commerce Secretary Gina Raimondo is set to visit China by the end of August to meet top trade officials as US imports from the Asian country have declined over the last year.
According to the US Department of Commerce (DOC), Raimondo will be in China from August 27-30 for meetings with senior officials in Beijing and Shanghai, as well as with US business leaders.
Raimondo's presence in the People's Republic of China (RPC), said the US government, follows President Joe Biden's recent meeting with President Xi Jinping last November.
"While in the PRC, Secretary Raimondo looks forward to constructive discussions on issues relating to the U.S.-China commercial relationship, challenges faced by U.S. businesses, and areas for potential cooperation," the DOC said.
Raimondo's visit to the Asian country comes after data was released on trade levels between the US and its main commercial partners highlighting a decline in imports from China and a surge in imports from Mexico and Canada.
Read More: US, Mexico's Plans to Bring Businesses from Asia to North America
According to data from the US Commerce Department, the US imported more goods from Mexico in the first half of 2023 than from China.
In that period, China exported $203 billion to the US, a drop of 25% against the first six months of 2022. In turn, the US imported goods amounting to $236.5 billion from Mexico and $212 billion from Canada.
The decline in US imports from China also comes at the heels of trade spats between the two nations, specifically due to restrictions imposed by Washington on investment.
As for Mexico's surge as the main provider of goods to the US, this has to do with the localization of supply chains in the country as part of the nearshoring trends sweeping industries around the world.
According to an analysis by Swiss investment bank UBS, nearshoring is altering the country's foreign investment and economy in the present and for the long term.
© 2023 Latin Times. All rights reserved. Do not reproduce without permission.