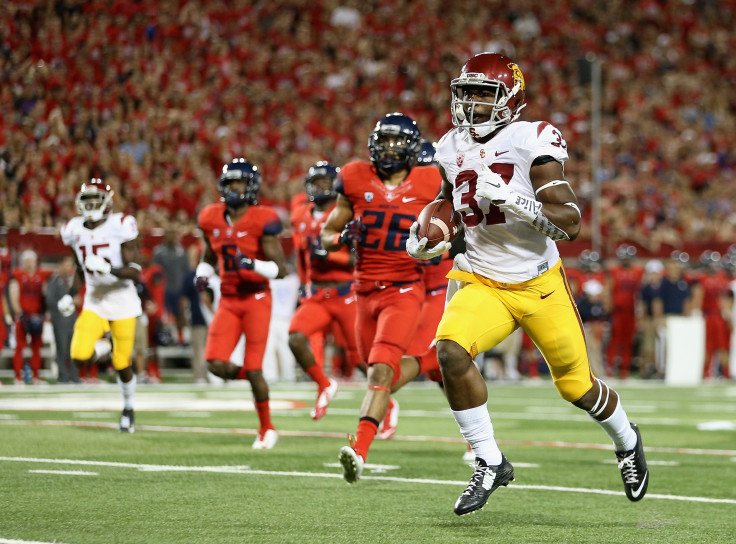 TUSCON -- The USC Trojans let their star tailback go 'Buck' wild on Saturday night in Tucson. Javorius "Buck" Allen led the Trojans with 203 yards rushing and three touchdowns as USC upset the #10 ranked Arizona Wildcats in a Pac-12 masterpiece.
The Trojans defense was looking to recover after a nightmarish finish last week in their hail mary loss to Arizona State 38-34. The defense responded to the heart breaking defeat in the desert holding the Wildcats to just two first half field goals and only 77 rushing yards for the game. For the second straight week, USC allowed an Arizona team to come back from a two-score deficit. The Wildcats came back from down 15 points in the 4th quarter, to get within a two-point conversion of tying the game. The Trojans stopped Arizona twice on the conversion attempt, the first one was an incomplete pass that was called back because of a pass interference penalty, the second attempt was a rushing attempt that was stuffed by the Trojans.
The Wildcats were trying not to have a letdown game after their stunning upset over #2 Oregon in Eugene last Thursday, 31-24. Arizona quarterback, Anu Solomon, completed 43 of 72 passes for 395 years and one touchdowns. The Trojans held the Wildcat's leading receiver, Cayleb Jones, in check for most of the game, as he finished the game with just seven receptions for 67 yards. Trojans quarterback, Cody Kessler threw his first interception of the season on what almost was an incredible play. Kessler evaded not one, but two Arizona defenders who thought they had the Southern California QB sacked. Kessler escaped to his right and tried to find a wide-open receiver down the field, but Wildcat cornerback, Jonathan McKnight, made a great play to intercept the pass.
Arizona running back, Terris Jones-Grisby was drilled in the first half by USC All-American defensive end, Leonard Williams and fumbled the ball. The Trojans recovered, but Grisby stayed on the ground for an extensive period after the play was over and eventually left the game with a concussion.
Wildcats back-up running back, Jared Baker, scored his first touchdown of the year. Baker who is from Los Angeles, scampered for six yards into the end zone, after a USC fumble just a few plays earlier. USC went four consecutive games without a turnover, only to have two on Saturday.
USC receiver, Nelson Agholor, had another great game for the men of Troy as he had 7 catches for 81 yards and a 21-yard touchdown pass to open up the second half of play. USC (4-2, 3-1 Pac-12), next hosts Colorado on October 18th. Arizona (5-1, 2-1 Pac-12) takes on Mike Leach's Cougars of Washington State on October 25th after an extra week off.
© 2023 Latin Times. All rights reserved. Do not reproduce without permission.