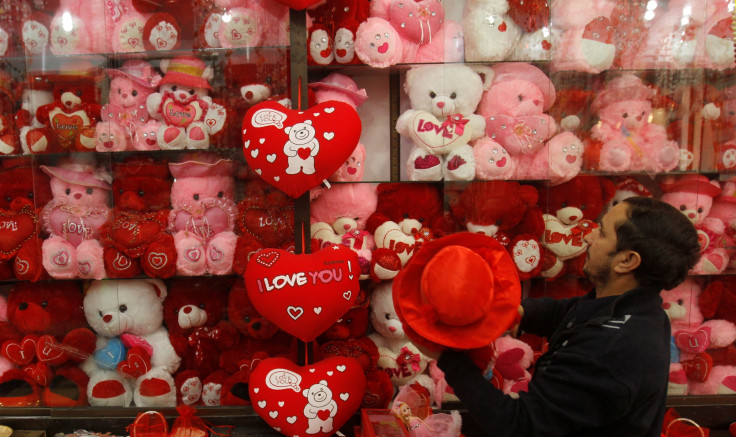 Valentine's Day is almost here and while you are most certainly fretting over what to buy your partner, you can't forget about your most precious of valentines—your kids. As we grow older, Valentine's Day serves as a romantic holiday to spend with our husbands, wives, girlfriends and boyfriends, or it acts a reminder of your singleness and provides a day to wallow in self-pity.
However when we are children, none of these societal pressures weigh on us, and the Hallmark holiday is simplified and solely focused on love, sweets, and of course cards! Who doesn't remember swapping Valentine's Day cards with their classmates? It was a seriously big deal, giving and getting cards was a fun activity that was normally concluded with class wide cupcakes and treats, talk about glory days.
So this year for Valentine's Day harness your inner cupid, return to those simpler times and celebrate the holiday with your kids by giving them a special card from you.
Of course your card better come with candy or cookies to even think about competing with the famed classmate exchange, but by writing personalized and sentimental messages in your child's greeting card, you can make them feel extra loved and special on an otherwise ordinary February day.
Check out 22 cute messages for your most lovable mini valentines!
"Life is filled with lots of things that make it all worthwhile, but none is better than your little smile."
"Thank you for filling my life with love."
"Know what I like about you? Everything! Happy Valentine's Day"
"May your every heart's desire come true for you today."
"It's so sweet having a [daughter/son] like you. Hope your Valentine's Day is extra sweet, too."
"May your life be filled with the kind of heartfelt beauty that you bring to mine."
"Even in a fairy tale where every dream comes true, I could never hope to find a son/daughter as sweet as you."
"Wishing someone close to my heart a warm and wonderful day."
"Right from the start, you stole my heart. Happy Valentine's Day"
"Since you're such a fantastic son, I've got a special Valentine's Day gift just for you! I promise not to kiss you in front of any of your friends!"
"So many of my smiles begin with you!"
"With all the things you do, the smiles you share, the laughter too, with all the dreams you make come true. It's great to have a kid like you!"
"You're always on my mind and in my heart. Happy Valentine's Day"
"Your face lights up my world."
"The joy of my heart since the day you were born. Happy Valentine's Day!"
"Hope your day is just as awesome as you are!"
"You're out-of-this-world amazing!"
"Be my love bug!"
"Whatever is worth doing at all is worth doing with you. Happy Valentine's Day!"
"Although I hope you already know, my love for you just grows and grows!"
"I love you THIS much!"
"Sweet treats on Valentine's Day help us remember to be sweet to each other. And you're one of the sweetest kids ever!"

Click to Buy Post Card
© 2023 Latin Times. All rights reserved. Do not reproduce without permission.