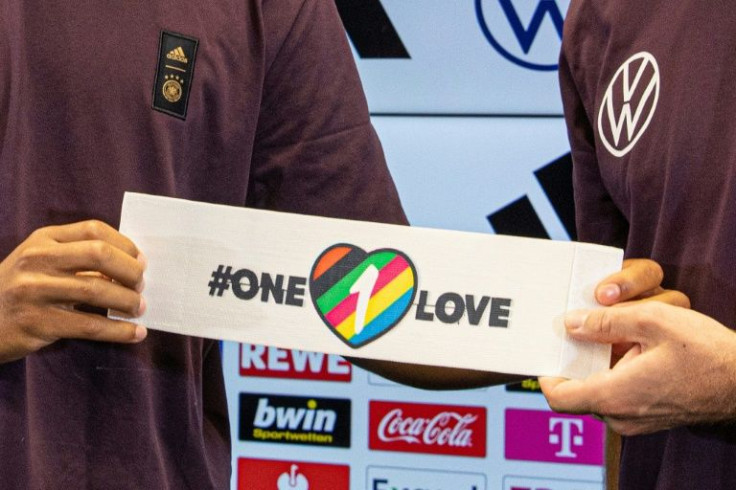 The World Cup has been filled with expected controversy and protests due to Qatar's history of human rights violations.
Here are a few ways in which fans and teams are taking stands in their own way against the conservative views during Qatar's World Cup.
Protestor shows unapologetic pride during Portugal v. Uruguay match
FIFA's controversial ban of OneLove armbands that are being worn in support of the LGBTQ community has cause different reactions including a bold protestor storming the field with a pride flag.
During the Portugal v. Uruguay match on Monday, a streaker jumped onto and ran across the field in the 51stminute, proudly waving a pride flag. In addition to standing up for LGBTQ rights, he also took an apparent stand against the injustices women are facing in Iran and the war in Ukraine.
The protestor also sported a Superman t-shirt with the words "Save Ukraine" on the front and "Respect for Iranian women" on the back. He can be seen running away from security before being taken down and away from the field.
There have also been incidents reported by fans of pride rainbow-colored items like flags and sweatbands being confiscated by FIFA officials. Also, the team captains for England, Wales, Germany, Denmark, Belgium, Switzerland, and the Netherlands were warned by FIFA before playing that if anyone on the team wore armbands, a yellow card would be issued.
Wales waves pride flags at training camp and bucket hats in stadium
Bucket hats have become a thing for Wales sports fans ever since Euro 2016. In support of gay pride, fans have sported their own rainbow-colored bucket hats.
Ahead of Wales match against the US on Nov. 21. Fans who wore rainbow-colored bucket hats were denied entry into the Ahmed Bin Ali Stadium. One person denied entry was former Wales soccer captain Laura McAllister.
This incident seems to have been the thing that pushed FIFA over the edge and into reversing their decision.
According to The Independent, FIFA officials assured fans that rainbow-colored attire, flags and items will "not be prohibited" at stadiums. This was also confirmed by the Football Association of Wales.
Along with wearing pride bucket hats at the World Cup, Wales' team also displayed a pride flag prominently at their Qatar training camp.
Germany protests FIFA's arm band decision with silence
Germany's team also had a response to FIFA banning the OneLove armband. It was silence.
Before the team's game against Japan on Nov. 23, they took a team photo in which they all covered their mouths. The goal was to take a quiet stand against the armband ban and show that taking away their choice to wear the armband is the same as taking away their voice.
In an interview ESPN after the game, Germany striker Kai Havertz explained why they made this decision.
"Of course it's important for us to do a statement like this," said Havertz. "We spoke about the game, what we can do, and I think first it was the right time to do to show the people that -- yeah we try to help wherever we can. Of course FIFA makes it not easy for us but we tried to show with that thing."
Iran passes on singing the national anthem
On Nov. 21 Iran began their opening match against England with a powerful statement, which was again, nonverbal.
It is traditional for Iran to sing their anthem, but players decided to remain silent wrapping their arms around each other. Even when Iran scored two goals, they did not celebrate, breaking another tradition to raise awareness about the conditions in their home country.
Currently, protestors are standing against the Iranian government after 22-year-old Mahsa Amini was arrested for improperly wearing her hijab. She reportedly died in police custody. This has sparked a war between the Iranian people and government in which more than 300 people have been killed.
The Iranian government has also reportedly threatened the players' families ahead of their match on Tuesday against the US.
© 2023 Latin Times. All rights reserved. Do not reproduce without permission.