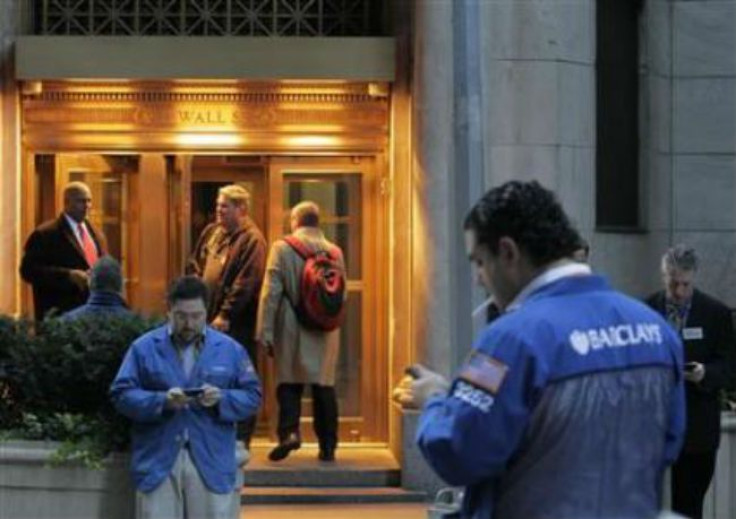 The U.S. stock market slowly returned to life on Wednesday after two days in the dark, in the wake of the massive storm Sandy that caused the market's first weather-related two-day closure since the late 19th century.
The Dow and the S&P 500 closed little changed while the Nasdaq Composite edged lower in a session with slightly less than average volume.
Traders made it through the darkened streets of downtown Manhattan before sunrise to the New York Stock Exchange at 11 Wall Street, one of the only buildings with any electricity in that area after Sandy crippled power supply and disrupted mass transit throughout the New York metropolitan region.
"I was driving in at 5:45 this morning in the dark, but the red and blue lights of the exchange were on, and it was clear that ours was the only building down here that was functional," said Jonathan Corpina, senior managing partner at Meridian Equity Partners.
The two-day weather-related break was the stock market's first multi-day closure for weather since 1888. It was a rare occurrence that affected long-time floor traders, the small corner of human element still left in a market that has become mostly electronic. Floor traders have opened after adverse events in the past, with the last weather-related closure resulting from Hurricane Gloria in September 1985.
"Sometimes we closed early, and sometimes we opened late, but it's always been open," said Ted Weisberg, president and trader at Seaport Securities, a veteran of the trading floor for 43 years. "That's the psyche that the people on the floor operate with."
Trading volume was average, with about 6.3 billion shares exchanging hands on the NYSE, Nasdaq and NYSE MKT. Daily average for 2012 through last Friday was 6.51 billion shares.
"The open was a positive relief after four days of sitting on edge," said Larry Leibowitz, the chief operating officer at NYSE operator NYSE/Euronext. "No matter how much planning you do, you can't foresee that kind of flooding."
Not everything was working as usual. Cell phone reception was sketchy on the floor of the NYSE, so traders were mulling around outside the exchange building making calls, texting and emailing on their phones.
Market participants on locations outside Manhattan also reported some normalcy, though the lack of electric power in the region was a hurdle, and forced many to rush to the pump to keep generators running.
"The biggest concern is getting gas. We were getting an extra bunch of gas to make sure our generator goes on," said Joe Saluzzi, co-manager of trading at Themis Trading in Chatham, New Jersey, some 25 miles west of Wall Street.
"It's like 'Mad Max,' the movie," he said. "Everyone's looking for gas, and protecting their gas when they buy it."
Knight Capital, the nation's largest market maker - which buys and sells stocks on behalf of clients - told clients to send orders to other brokerages due to power issues. The Jersey City-based company said its backup generators failed, hurting its ability to take orders and trade stocks and options. Its stock ended 1 penny higher at $2.63.
Unsurprisingly, investors made a knee-jerk move to buy companies that stand to benefit from home repairs. Dow component Home Depot climbed 2.2 percent to $61.38 while rival Lowe's rose 3.3 percent to $32.38.
Generator manufacturer Generac Holdings shares surged 20 percent to $34, building on a rally that started before the storm hit. The company reported earnings Tuesday evening and said the rest of the year would be better than expected because of increased demand for home generators.
"We're seeing reactions from Home Depot and the insurers. But I think these will be relatively short-lived," Weisberg said.
The Dow Jones industrial average dropped 10.75 points, or 0.08 percent, to 13,096.46 at the close. The Standard & Poor's 500 Index gained just 0.22 of a point, or 0.02 percent, to finish at 1,412.16. The Nasdaq Composite Index fell 10.72 points, or 0.36 percent, to end at 2,977.23.
For the month of October, the Dow fell 2.5 percent, the S&P 500 lost 2 percent and the Nasdaq dropped 4.5 percent.
Shares of Netflix Inc rose as much as 22 percent before closing up 13.9 percent at $79.24 after activist investor Carl Icahn reported a stake of nearly 10 percent in the company, which offers subscriptions to watch movies and TV shows over the Internet and on DVDs.
Ford Motor Co rallied 8.2 percent to $11.16 and was the NYSE's most-active stock after the automaker reported strong results while the market was closed. General Motors reported earnings that beat expectations, driving its shares up 9.5 percent to $25.50.
Weakness in Apple Inc, which announced management changes earlier in the week, weighed on the Nasdaq. The stock fell 1.4 percent to $595.32.
Facebook shares slid 3.8 percent to $21.11 after the expiration of a lockup period that had prevented some employees from selling stock.
Walt Disney Co agreed to buy filmmaker George Lucas's Lucas film Ltd and its "Star Wars" franchise for $4.05 billion in cash and stock, a blockbuster deal that includes the surprising promise of a new film in the series in 2015. Disney, a Dow component, fell 2 percent to $49.07.