An angry Indonesian wife posted a TikTok video of her cooking her husband's expensive pet fish to protest against his laziness.
In the now-viral video, posted on Oct. 8, TikTok user Mia Kurniawan who goes by the username @miakurniawan01 can be seen scaling and seasoning her husband's pet Arowana fish, before deep-frying it to teach him a lesson.
"My husband kept promising to clean the aquarium after I told him to. I thought it would be delicious if I fried it," Kurniawan wrote in an accompanying text.
Towards the end of the 20-second video, Kurniawan shows the cooked fish and declares by making a heart gesture by crossing her thumb and index finger "already cooked and ready to eat".
The video shared on Oct. 8, has garnered more than six million views with shocked netizens leaving messages of support for the husband's loss.
"Wow, when her husband finds out, he's definitely crying his heart out," one user wrote.
"My brother cried seeing this," another commented.
Responding to comments from netizens, Kurniawan posted videos saying that her husband has forgiven her for killing his pet fish and is looking to buy another Arowana.
The Asian Arowana, or commonly named Dragonfish, which can go for as much as $300,000 is considered a symbol of wealth and prosperity in countries such as China and Japan.
This luxury ornamental fish with glimmering red and gold scales is listed as an endangered species under the International Union for the Conservation of Nature Red List and cannot be brought to the States as it is protected by the Endangered Species Act.
In another viral TikTok video, a woman shared her "expectations versus reality" moment when she showed the wedding cake she ordered and what she actually received.
Nashville-based singer and stylist AG Wright shared a picture of her dream wedding cake which she had spotted on the Martha Stewart Living Pinterest page and what she received when she picked up the order.
Instead of being adorned with white flowers, greenery, and black detail the cake she received was instead plain white with black splotches dotted around each of the tiers.
After the video went viral, she shared another clip in which she can be seen comforted by her family as she pulls on her cheeks, looking as though she's about to cry.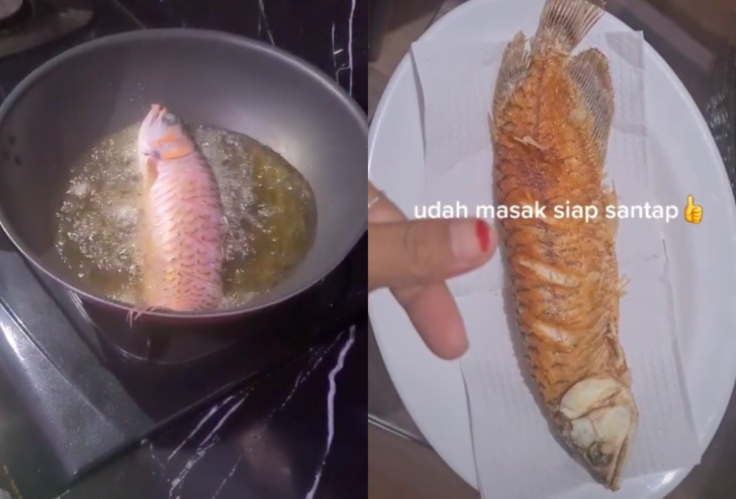 © 2023 Latin Times. All rights reserved. Do not reproduce without permission.