A comedian dressed in a Superman suit from Brazil ended up getting injured after a stunt they were filming went wrong. The man was identified as Luiz Ribeiro de Andrade, 35. He got struck by a bus when he attempted to film himself trying to stop an incoming bus last May 30.
Although injured and lucky to come out of it alive, the 35-year-old calmly walked and tried to get something out of the accident.
"Now I've seen I really am made of steel," he stated.
Footages show how the comedian stood confidently dressed in the Superman outfit in the middle of the road to make it appear he had super strength. But to his surprise, the distance calculations just went haywire with the bus hitting him.
Initially, he mentioned that he would look into the brakes of the vehicle after it had hit him. But he, later on, cleared the air on what had happened.
Regardless, Luiz took responsibility for the whole thing and cleared the bus of any wrongdoing. He stressed that there was no problem with the brakes of the bus and just thanked God for saving his life.
"I take responsibility for everything. I went to the bus company so that the driver would not be penalized. There was no problem with the brakes," he said to F5 News. "He did what he could and I acted wrong. It's a stunt I always do, but this time it almost turned into an accident, and it wasn't serious because the hand of God was there."
The transport company that manages the bus that hit the comedian issued its statement on the matter. They stated that the importance of attention to traffic (and) ensuring all necessary care.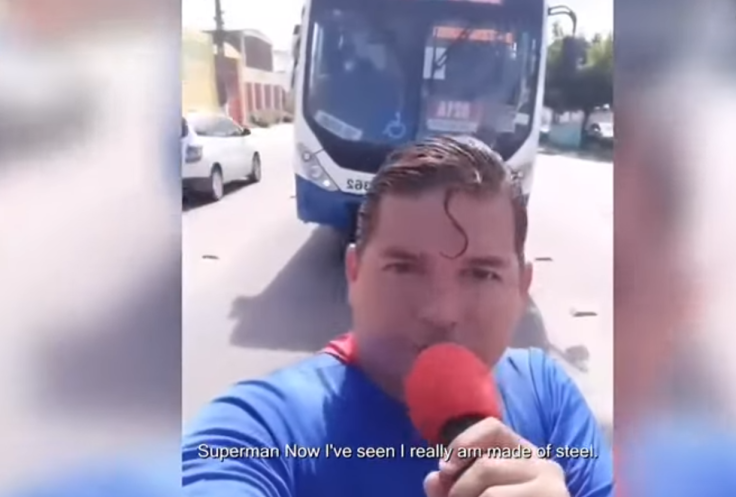 © 2023 Latin Times. All rights reserved. Do not reproduce without permission.