A Michigan police officer has been lauded for fearlessly saving a life after pulling out an injured man from a burning vehicle following an interstate collision that caused the car to burst into flames last Sunday, June 27, according to local officials.
The dramatic bodycam video released by Harper Woods Police Department shows Luke Pauley, 30, a public safety officer from Harper Woods, putting himself in danger to rescue a man from a burning car on Interstate 94 at Moross on Monday, Fox News reported.
The footage shows Pauley, the first officer on the scene, yelling into the radio as he puts his gloves on while running towards the car burning in flames. Bystanders can be heard in the video telling Pauly that the driver was trapped in the car.
"Someone's trapped in the car," a woman can be heard yelling as he runs past her. He then proceeds to open the front passenger door of the car.
Dashcam footage obtained from a second responding officer's car captured footage of the rescue as Pauley is seen dragging the 23-year-old victim, who was unconscious at this point, from the burning vehicle to safety on the side of the road.
"As soon as I got out of my squad car, there was a bunch of bystanders yelling at me that somebody was trapped, so my training just kicked in," Pauley said.
Pauly said that the man was trying to get himself out of the car but was fading in and out of consciousness.
"It looked like he was trying to get himself out of the vehicle, but he was unsuccessful at doing so. I reached my hand in because the outside door handle was locked, and I was able to unlock the door, and he pretty much just fell into my arms and that's when I pulled him to safety," he related.
After Pauley managed to rescue the victim and get him safely by the side of the road, two nurses who were stuck in traffic on the interstate got out and tended to the man's wounds until the ambulance arrived. Later, the victim was taken to a hospital, but reports suggest that he's now in a stable condition, Daily Mail reported.
Pauly reportedly said that what he did was just his job and gave credit to other officers who also responded that day.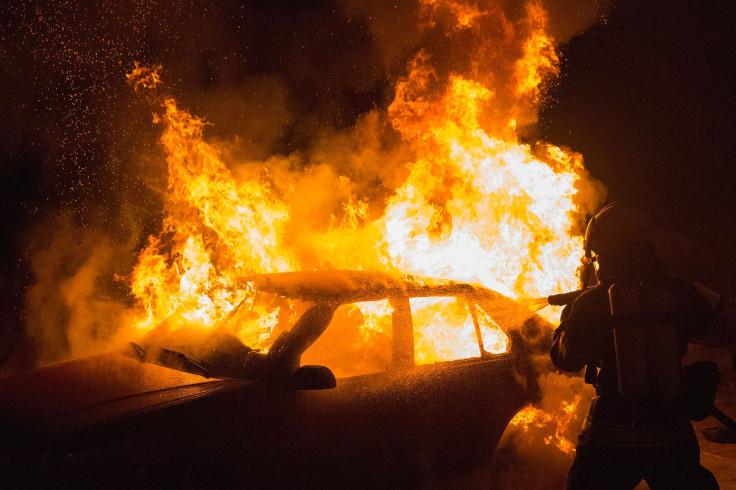 © 2023 Latin Times. All rights reserved. Do not reproduce without permission.