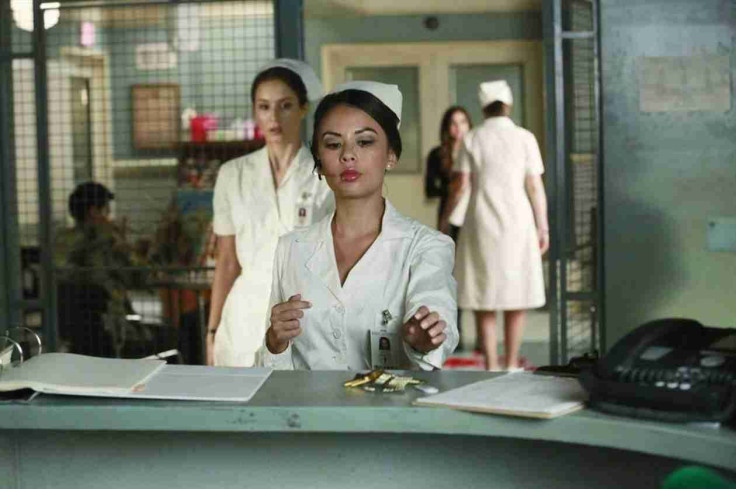 Tonight "Pretty Little Liars" is set to celebrate the Season 5 summer finale, and while the series is known for its heart pounding premiere and finale episodes this one is set to be all the more special, mainly due to its description as "fatal." That's right one of the main characters on "PLL" will unfortunately lose their lives during tonight's episode, aptly entitled "Taking This One To The Grave." While it's still a mystery as to what character won't be returning to Rosewood, many fans believe that the small town's former villain, Mona will not only be up to her old "A" ways but will also unfortunately be the character experiencing the fatal finale first hand.
And while the highly anticipated character death will most certainly be one of the more shocking scenes, there is still a lot of additional action set to unfold in the episode. The episode synopsis teases some rising tension between the Liars and Alison, revealing "With Alison leading them down a dangerous path and "A" barring them from telling the police the truth, Aria, Emily, Hanna and Spencer feel trapped and are desperate to find a way out of this mess." While the synopsis states that "A" is keeping the Liars from going to the cops and just being honest, the Liars are now starting to think that their friend is actually "A" and while she is freely going to the police to tell her version of events, she does not want the whole truth to be known. The synopsis also ties Mona into the episode stating, "With nothing else to lose, could the PLLs lose everything by putting their faith in a possibly untrustworthy ally?" The Liars will definitely team up with Mona this episode, fans discovered this earlier due to spoiler photos showing both Mona and Spencer in nurse outfits investigating something at Radley.
The main mystery is how all of these plot aspects will come together in one huge reveal. Watch the "Pretty Little Liars" Season 5 summer finale "Taking This One To The Grave" tonight Tuesday, Aug. 26 on ABC Family at 8 p.m. or watch online via live stream available at abcfamily.go.com.
© 2023 Latin Times. All rights reserved. Do not reproduce without permission.