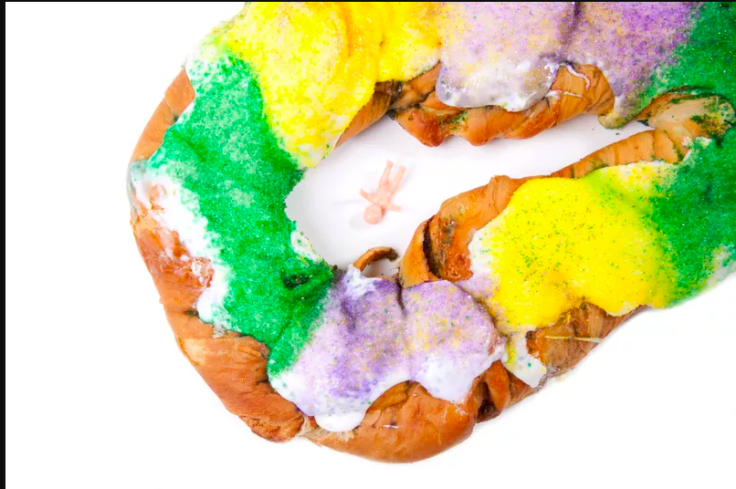 It's that time of the year again—the Champagne headache finally wears off, and a brand-new start awaits. If you're someone who takes NY celebrations seriously, it is very unlikely for you to have missed out on a very significant NY accessory—the King Cake. And just in case if you've always wondered why is there a baby place in the middle of the ring-shaped cake; here's what you need to know…
Back in the day, it was customary to place a small bean in the middle of the cake as it baked in order to symbolize the baby Jesus. Over time, changes began to set in—bakers switched to feves, which literally means beans, but in reality, were porcelain figurines that were baked.
These feves in question aroused a lot of intrigue, and garnered the attention of many. That said, they were so ornate and striking in its appeal that a museum in France began to exhibit a range of feves. Unsurprisingly, it is believed that several visitors drop by—all year round— in hordes and feast their eyes of these beautiful feve collections.
Fast forward to the present day context and most bakeries are known to make do with a plastic baby doll, in place of the feve, which is baked into the cake. Yet, the concept of baking in designed porcelain figurines isn't an alien concept. Several bakeries in the west do take conscious efforts to bake in a porcelain figurine into a cake.
Throwing in a bit of context, the term "King Cake" has a very interesting story to it. During the reign of King Herod, after Jesus was born in Bethlehem of Judea, wise men from the East arrived at Jerusalem, asking for the child who was born as king of the Jews? The men observed his star at its rising and had come to pay him homage.
They set out on a journey soon after and witnessed magic before their eyes— ahead of them, a star that they had seen at its rising, stopped over the house where the new born was. This observation filled them were overwhelmed with joy. Upon entering the house, they saw the new-born in the arms of Mary his mother; and they knelt down and paid him homage. Then, they showered the newborn with gold, frankincense, and myrrh.
History records January 6 as the date on which the Feast of Epiphany is celebrated. On the same day, the three Magi are believed to have visited infant Jesus—two weeks after his birth. Thus, it is believed that the King cake is a classic dish that is brought in to celebrate Epiphany or the visit of those three kings.
© 2023 Latin Times. All rights reserved. Do not reproduce without permission.