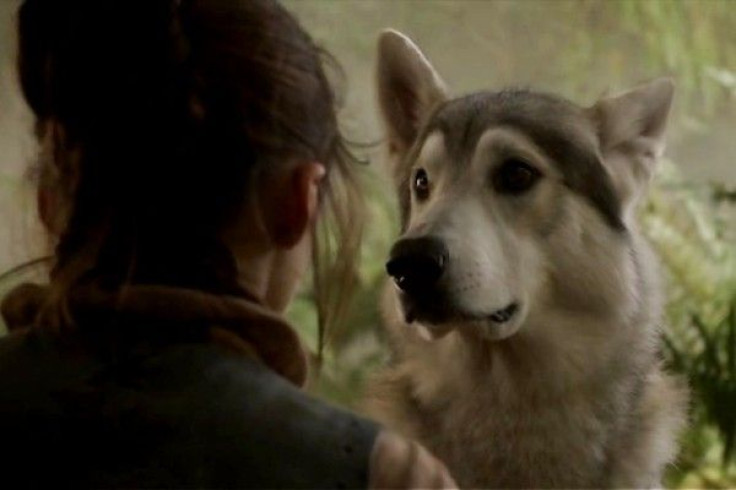 Though the release date of George R.R. Martin's highly anticipated "A Song of Ice and Fire" installment "The Winds of Winter" is still shrouded in long delayed mystery, there is a small update on the plot that will give fans of both the acclaimed book series and HBO series something to look forward too. In a recent interview with Mashable, Martin discussed his dedication to the Wild Spirit Wolf Sanctuary, which the author ranks among his favorite charities. Martin, who is as equally diverse and as eclectic as his grandiose "Game of Thrones" characters, recently held a benefit for the charity at his personal movie theater, Jean Cocteau Cinema, in Santa Fe where he was joined by a fully grown, stark white, Artic wolf unsurprisingly named Fluffy.
The organizers of the charity brought Fluffy along in order to a receive a check for $172,485.53, which was raised due to Martin's Prizeo charity crowdfunding drive in which the author notably auctioned off three in-book deaths for donors who pledged $20,000. Martin discusses the upcoming kills in "The Winds of Winter" and even revealed some news about the release date, albeit it was completely and totally disappointing news. Martin is currently in contact with the three winners and is working them and their deaths into the plot, he stated, "We're going back and forth, I've started emailing them. I'm still in the middle of the book, so it'll be some time before I write the scenes in which they die." That's right, middle of the book, its borderline shocking after the three years wait. Back to the plot spoilers, because this delayed release date conversation is as depressing as the Red Wedding.
Martin explained that the charity and the actual beneficiaries of the check, wolves, have always been among one of his interests, even as a child. "Well, they're mythic. I think even as a kid I responded to the werewolf legends and the wolves in the wood and, you know, Little Red Riding Hood and all of that," he explained. "Wolves have been part of European folklore, of which America's descended, going back thousands of years. In Rome, Romulus and Remus — there's always been this relationship between wolves and men."
It's easy to connect Martin's affinity for wolves back to his "Game of Thrones" series, with the most honorable and noble of the Westeros families bearing the direwolf symbol on their house flag. The Stark children, who despite being separated for most of the series, have always sought solace and sanctuary in the relationship with their direwolves. The direwolves were given to each Stark child, even Jon Snow, after being discovered in the lands surrounding their beloved and now destroyed home, Winterfell. While Sansa Stark's wolf Lady was killed by her father at the orders of Cersei Lannister, the other surviving children all have a close knit bond with their enormous companions even Arya who hasn't seen her direwolf, Nymeria since before her father's death. Martin, though reluctant to spoil anything big, did reveal that Nymeria would be entering back into Arya's storyline. "You know, I don't like to give things away," Martin said of Nymeria's importance in "The Winds of Winter." "But you don't hang a giant wolf pack on the wall unless you intend to use it."
Long live the Starks! Comment below and let us know what you think of Nymeria's triumphant return!
© 2023 Latin Times. All rights reserved. Do not reproduce without permission.