A 22-year-old woman from Long Island is reportedly missing and her family is seeking the public's help. She was last known with her boyfriend during a cross-country road trip and the concern grew after police recovered the vehicle they were riding abandoned.
The woman was identified as Gabby Petito who was last known to be in Wyoming's Grand Teton National Park in late August. She was on a tour with her boyfriend, identified as Brian Laundrie on social media before she went missing, Newsday reported.
The family of Gabby was further alarmed when police discovered the 2012 Ford Transit van with Florida plates. Laundrie was able to return to his Florida home but has refused to cooperate with authorities. He has hired an attorney to speak on his behalf according to reports.
"All the places it's brought us so far have been amazing! As soon as we got to the Great Sand Dunes I didn't want to leave, there was so much to hike!" read part of Petito's message on July 10.
She was only reported as missing by her mother, Nicole Schmidt, on Saturday (Sept. 11) to the Suffolk County police.
"Gabrielle Petito was traveling in a white, 2012 Ford Transit van with Florida license plate QFTG03 with a companion when she stopped communicating with friends and family," authorities wrote in a statement.
According to her mother, the last time she was able to speak to her daughter was on Aug. 23 or 24 via Facetime. She added that she was still able to receive text messages until Aug. 30. However, Schmidt was unsure if it was her daughter sending the messages.
A GoFundMe page has been put up describing Petito. She stood 5-foot-5, weighed 110 pounds, had blond hair with blue eyes.
"She has a triangle tattoo on left arm with flowers and a 'Let it be' tattoo written on her right arm. She has a Belly button piercing," the post said.
"While we are working with the FBI, multiple law enforcement agencies, and outside resources to pursue any and all leads the family will need funds and resources to travel and pay for expenses related to an investigation and search on the other side of the country, any help is appreciated," the post further read.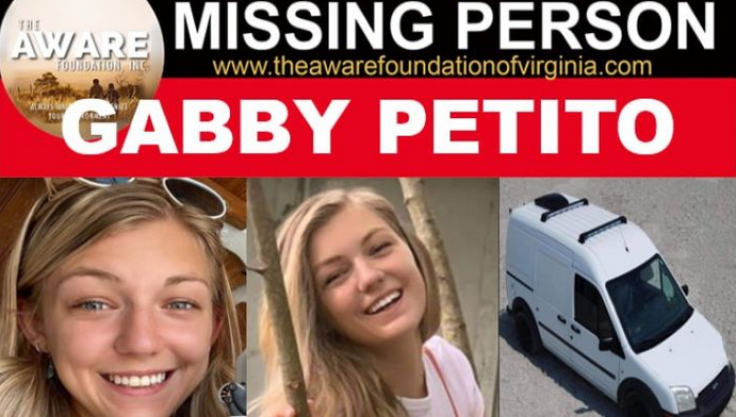 © 2023 Latin Times. All rights reserved. Do not reproduce without permission.