Wedding bells will soon be ringing for Bella Thorne and her beau Benjamin Mascolo.The 23-year-old actress and her Italian pop star boyfriend took fans by surprise as she dropped a series of Instagram stories over the weekend – with the last one being a close-up shot of the engagement ring. Now that everything about Thorne's mystery man is finally out in the open, here are five worthwhile things to know about him:
1) He's Italian: While Thorne is American, Mascolo's roots can be traced to Modena, Italy. While work and other commitments push him to shuttle between Los Angeles and Italy, Mascolo spends considerable amounts of time with his family in Italy. Not too long ago—last year to be precise—when the pandemic broke out, Mascolo and Thorne were pushed into a long-distance relationship of sorts as he decided to leave town and be with his folks. The two however waded through the tough phase, and often expressed how badly they missed each other on Instagram.
2) Love Struck in Coachella, and it's been 2 years: Thorne and Mascolo bumped into each other in California, at the annual Coachella Valley Music & Arts Festival. Sparks flew after an instant connection struck. The rest, as they say, is history. "I immediately knew she was different from all the other women I met in my life," said Mascolo, in one of his interviews in an Italian daily, which was later translated to English. In April 2020, Mascolo went all out in terms of PDA and ran a throwback to their first meeting in 2019. "About one year ago, out of the blue you landed like a UFO alien in my very normal Italian pop star life and f****d up all the plans I had for an outrageous Coachella weekend and summer in Ibiza and Mykonos. Safe to say this was no doubt the best thing that ever happened in my life, I'm forever grateful to you my beautiful little girl, god bless the moment I put aside my shyness to randomly text you and say 'let's hang out.'"
3) They are in the same line of work: Thorne and her fiancé belong to the showbiz industry. Mascolo is an actor and pop musician one-half of the duo Benji & Fede (with Federico Rossi). In 2020, the Italian pop star tried his hands in acting and went ahead with his first movie— "Time Is Up", featuring Thorne and himself in the lead. The duo spent quality time being together in the last Fall, as they shot for the movie in Rome.
4) He's obsessed with Ed Sheeran: Yes. The Italian pop musician was counting his lucky stars when he chanced upon the opportunity to meet Ed Sheeran. He's such a die-hard fan, that he seemed visibly star-struck as he spoke with the "Shape of You" singer. Mascolo had gotten Sheeran to autograph his arm, and cited that getting his signature tattooed was always at the back of his mind.
5) He's got a thing for tattoos: Mascolo has a MAJOR thing for Thorne, and it's pretty obvious. And, interestingly, it turns Thorne on all the time. "They're all pretty hot," said his fiancee in a clip of the two behind-the-scenes at a magazine photoshoot, as per a recent Billboard report. "I love your tats. I love that when we first met, one of the things I noticed, he has 'patience' and 'balance' on his hands, which is two things that I talk about needing so much more in my life all the time. So, it's kind of like the universe gave me something that I really needed to look at," she said.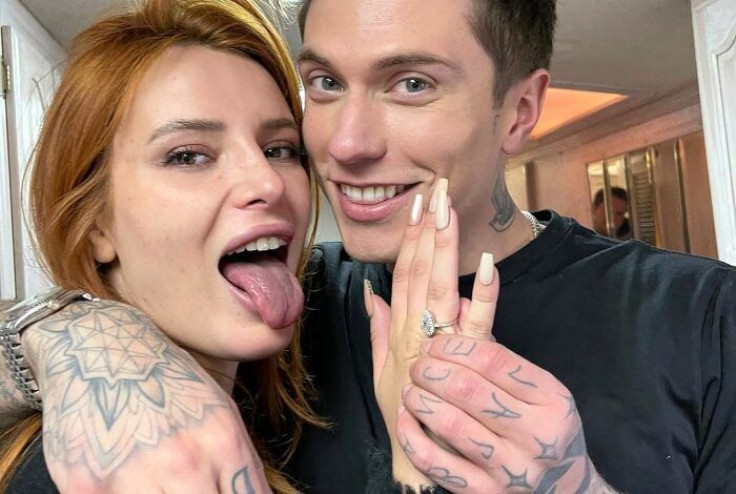 © 2023 Latin Times. All rights reserved. Do not reproduce without permission.