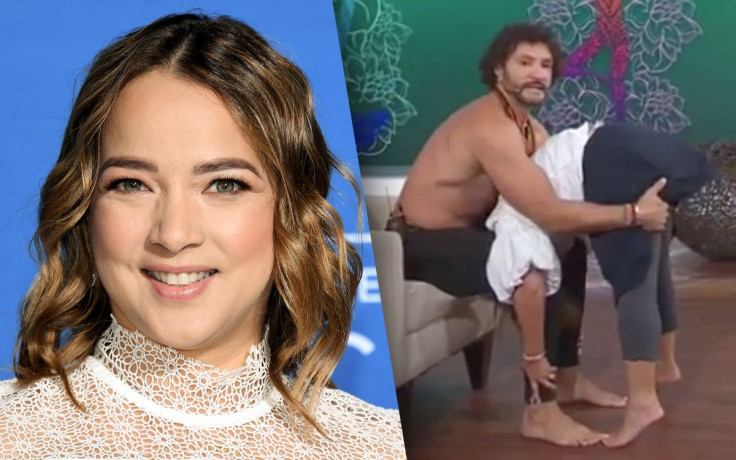 Adamari Lopez continues to make headlines, but this time it's not about her weight or her breakup with Luis Fonsi, it's about an ability that many didn't know she had. During a segment on "Un Nuevo Día," the Puerto Rican star shocked viewers showing how flexible she was during a yoga routine. Lopez got a hold of Alejandro Maldonado's ankles and was able to raise her legs up above her head, this is a massive core workout. Check out the video down below and tell us if you are able to match that pose!
Adamari Lopez has struggled with her weight over the last years and she has unfortunately been victim of fat shaming. The former telenovelas actress has suffered from fat shaming online as she has gained a couple of pounds over the years, but now López is on a path to losing the weight and sticking it to the cyber bullies. Adamari has started a new regime and shared her progress with her followers on Instagram. "It's time to exercise and keep healthy," she wrote. In the photos she shared she was seen on a scale and working out. We are rooting for Adamari and hoping for the best!
Adamari has previously address all the shaming she's received online. "You try not to pay attention to the comments," the 44-year-old cancer survivor told "Suelta la Sopa." "I'm not saying they don't affect you. But the way I see it, I always try to find the positive side, and that's in general, in life." he continued, "Sometimes I just think that people reflect how they are feeling when they talk, and that's what they express. If they are going through good times, they make nice comments, if they are going through bad times, then they are just reflecting how they feel."
Although many good moments come for Adamari Lopez on "Un Nuevo Día," sometimes they leave a lot to be desired. During a recent episode of the morning show Rashel Díaz was promoting an interview she had done with Luis Fonsi, Adamarí's former husband. As Díaz was hyping up her primetime special, López was completely stoic, in contrast to Ana María Canseco who had a smile on her face. Adamari showed no expression and was listening attentive to what her co-host was saying.
When Rashel sent to the clip, she asked the "Despacito" hitmaker what has been one of the most difficult times in his life. "On a personal level I would say my divorce," he answered. "My divorce I think was the most difficult, where I learned the most, what fortified me... but I can't lie to you, it was without a doubt a difficult time." Rashel then asks what was the most difficult time professionally to which he responded: "I think it was that as well."
On the way back to the Telemundo morning show cast, Adamari continued to remain expression-less, while Rashel plugged her show. Daniel Sarcos chimed in as there seemed to be tension on the table. He started laughing saying that it was "a moment" after seeing Fonsi's declarations. López laughed it off and completely changed her expression to move on from the subject, finishing it off by promoting the television special.
© 2023 Latin Times. All rights reserved. Do not reproduce without permission.