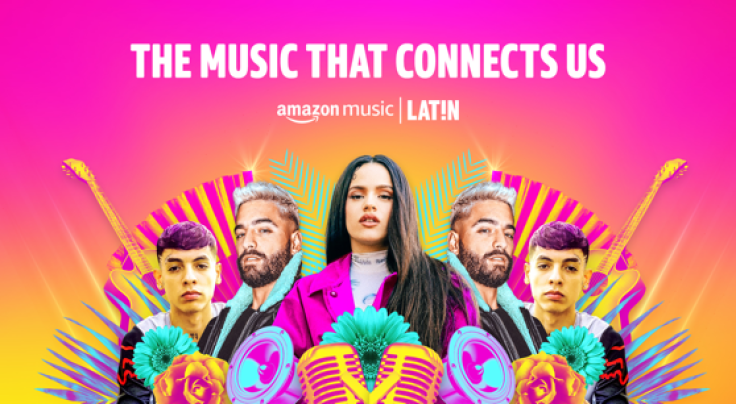 Amazon Music launched Amazon Music LAT!N, right on time, to celebrate Hispanic/Latinx Heritage Month. The new global destination and brand are developed to commemorate the many genres and artists of Latin Music. Under the tagline of "La Música Que Nos Conecta," or "The Music That Connects Us," Amazon Music LAT!N has available nearly 100 new and revamped playlists genres of Latin music.
Amazon Music LAT!N also features merchandise from global superstars, new video content including interviews and mini-documentaries, Amazon Original songs, a brand-new social media destination, podcasts, and more.
"In a moment where Latin Music is more global than ever before, the timing is perfect to showcase all of the different genres, diversity, and richness of the culture," said Rocio Guerrero, Global Head of Latin Music. "With the launch of Amazon Music LAT!N, we are giving customers an outlet to connect – and reconnect – to their culture, roots, and each other. This is why we chose to use the tagline, 'La Música Que Nos Conecta.' We're shining a light on the many genres, and artists at all levels of their career, that make Latin Music so powerful."
The platform also includes the launch of a new emerging artist program, ROMPE, created to support developing artists in the US, Latin America, and Spain, at the most crucial moment in their careers, accelerating them to the mainstream. Latin pop duo, Las Villa, and Colombian singer, songwriter, and producer, Nobeat, are the initial two artists selected for the program.
RAICES, a new brand developed to support artist catalogs across all genres of Latin music, will be featuring Marc Anthony, as the first Artist of the Month. The RAICES brand showcases carefully-curated artist playlists across various genres, taking listeners on a career-spanning journey through the featured artist's entire body of work. RAICES has new editorial and marketing initiatives like short video features and playlists.
"I am so proud to be the first artist to be featured at Amazon Music RAICES. I am thankful for Amazon Music's invitation to this new program that celebrates our catalog of music, culture, and legacy in front of fans globally," Marc Anthony said.
The "SOMOS POP" playlist, is a new, Amazon Original song from Maluma, an acoustic version of his current global hit, "Hawái." Customers can stream the Amazon Original version of "Hawái" exclusively on Amazon Music, and fans will be able to interact with the artist through Alexa with voice. Customers can ask Alexa questions like, "¿Alexa, Qué significa para Maluma ser Colombiano?" or "¿Alexa, Qué música le recuerda a Maluma a sus raíces/infancia y por qué?" and hear a recorded response from Maluma himself. Karol G, Christian Nodal, and Romeo Santos will also release new, exclusive songs in the weeks to come. Listen to Maluma's Amazon Original version of "Hawái," here.
Soon, Amazon Music LAT!N would be launching a brand-new video series available in Spanish and English, highlighting the many different genres and backgrounds of Latin artists. Coming up series "Género101" will showcase different Latin Music genres and cultures, explained by the top artists of each genre. The first episode of "Género101" will start with the history behind "Corridos Tumbados," narrated by Natanael Cano.
A multimedia podcast hosted and curated by superstar Becky G will be featuring audio and corresponding video broadcast on Amazon Music's Twitch Channel. Titled "En la Sala" and premiering September 23 on Amazon Music, fans will join Becky G as she calls on some of the biggest names in music and entertainment, her family and friends, to discuss Latinx pride, women empowerment, LGBTQ+ rights, relationships, politics and sports, all while unpacking the most critical issues facing the Latinx community today. Becky G has also worked with Amazon Music and Gema Productions to dedicate each episode to a non-profit organization related to the theme of the week, to pay it forward to organizations directly impacting the Latinx community in a positive way. Becky sets the standard for her guests and listeners; since En La Sala, you can't just talk about it — you have to be about it too.
"To me, my voice has always been about more than just singing, it's using it for the greater good and creating a destination for change," said Becky G. "In quarantine, with so much time to consider the world around us, it felt like the perfect opportunity to open a new line of communication and pay it forward, and I'm so thankful that my girls Rocio Guerrero at Amazon Music and Diana Dotel at Gema approached me with the opportunity to create this podcast. I'm excited to be joining forces with Amazon Music so we can start to have conversations about looking within to see how we can all be better."
Amazon Music LAT!N will also launch new and revamped playlists, including the latest global playlist "PLATINO," formerly titled "Fuego Latino," "HOY" (newly released songs), "HITS" (undeniable hits), and "CLASICOS" (all-time classics) for each of the Latin genres. "HECHO EN" will highlight music made in specific countries like Mexico, Spain, Colombia, etc. Additional new global playlists will be released, spanning various genres, including regional Mexican, Tropical, Rap and Trap, Reggaeton, Flamenco, and more.
© 2023 Latin Times. All rights reserved. Do not reproduce without permission.