A football coach in Argentina was shot during a third-tier match in Mendoza province on Sunday, Oct. 31, when the violence that began outside the stadium eventually spilled onto the pitch as the Huracan Las Heras fans fought amongst themselves.

According to the sports newspaper Ole, the Ferro De General Pico coach, Mauricio Romero was shot in the shoulder when fans groups linked to Huracan fired gunshots following disturbances in and around the ground.

A video of the incident shows players from both teams frantically running for safety as other fans rushed towards the exit.
Witnesses said the shooting began outside the stadium but continued inside as violent home fans tried to force their way into the field.
The Ferro has confirmed in a Twitter update that Romero underwent treatment for his injuries and is now in stable condition.
"Romero is doing well and out of danger," Ferro tweeted. "After leaving the stadium he underwent tests in a local hospital and is now giving a statement to police."
Romero spoke to the police after he filed a complaint and the Argentinian Football Association has now launched an inquiry.

No arrests were reported at the time of this writing.
The incident apparently occurred the same day a similar incident stopped play in a U-20 match in Brazil.
Fortunately, no one was injured in the incident during the match between Serra Macaense and Carapebus at the Moacyrzão Stadium.
It was later revealed that the gunshots were the result of a police operation in a community close to the stadium.
The two teams were tied at 0-0 at the time of the incident and the game did not continue. Now the Court of Sports Justice will determine whether the game needs to be replayed or whether the result will stand at 0-0.
In another incident that happened in August, a referee was filmed restoring order by pulling out a gun after his penalty decision spurred violence in the stadium at the western Honduran town of La Jigua.
According to reports, the ref brandished the weapon to protect himself from angry supporters who thought he should have awarded their side a penalty.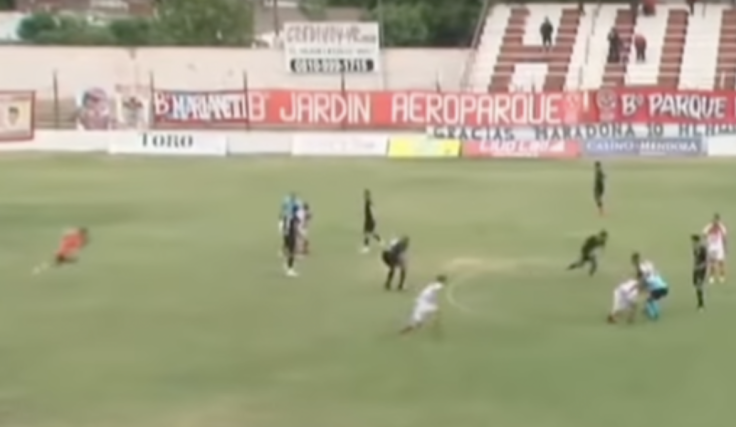 © 2023 Latin Times. All rights reserved. Do not reproduce without permission.