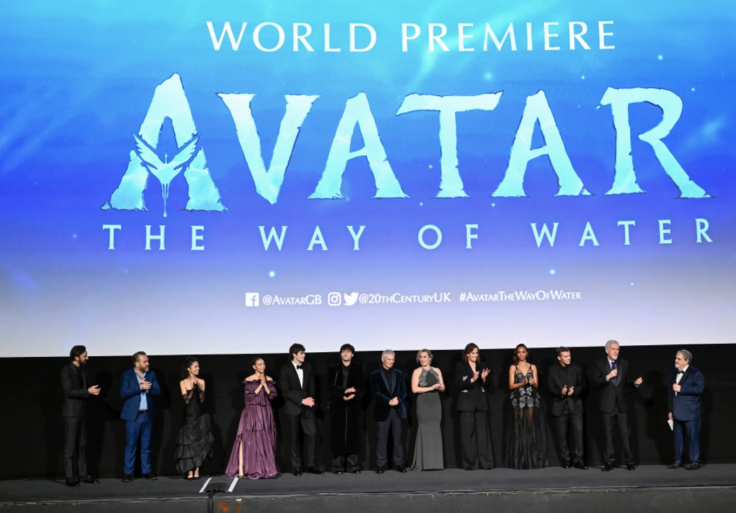 After 13 years, the long-awaited sequel to "Avatar" is here.
On Tuesday, audiences returned to James Cameron's magical and visually breathtaking world Pandora during the world premiere of "Avatar: The Way of Water" in London's Leicester Square.
Cameron along with his wife Suzy Amis Cameron attended the star-studded event together. Other stars included Sam Worthington, Zoe Saldaña and Sigourney Weaver who will be returning as their original characters, Jake, Neytiri and Kiri. Joel David Moore,
Stephen Lang, who played the tough and impersonal Colonel Quaritch and died in the first movie, was also at the premiere with newcomers to the "Avatar" universe Kate Winslet, Bailey Bass, Jack Champion, Brendan Cowell, Trinity Jo-Li Bliss and Jamie Flatters were also present.
The premiere also had no shortage of drama welcoming attendees with a blue carpet, fitting with the color scheme of "Avatar."
Actor John Boyega, Black Eyed Peas Rapper Will.i.am, Actress Benedetta Porcaroli, British Musician Bill Bailey, and British Model Jourdan Dunn also made their way to the premiere.
"Avatar" premiered on Dec. 18, 2009, focusing on the environment and how we as society treat and interact with the earth. "Avatar: The Way of Water" will focus on family, specifically Neytiri and Jake's family and the fight to keep it intact despite outside forces.
This is not the last we will see of "Avatar," as there will not be another 13-year break. The third movie in the "Avatar" franchise "Avatar: The Seed Bearer" is already filmed and set to premiere in 2024. The fourth movie is due to be released in 2026 and then a fifth movie is scheduled to be released in 2028.
"Avatar: The Way of Water" will premiere in theaters on Dec. 16.
© 2023 Latin Times. All rights reserved. Do not reproduce without permission.