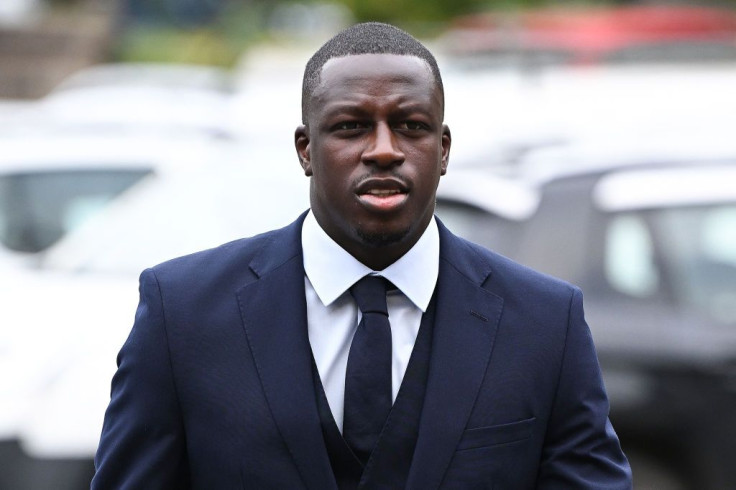 A court was told Wednesday that Man City star Benjamin Mendy "had a predatory look in his eye" before he exposed his penis and tried to rape a woman at his mansion.
Jurors were told that the 28-year-old footballer "pushed" the woman, 29, down onto a bed and tried to hold her on his lap, reported Daily Mail.
Mendy is currently on a rape trial, and he has denied one count of sexual assault, one count of attempted rape and eight counts of rape, reported The Sun.
His co-defendant Louis Saha Matturie, known as his "fixer," is also on trial. He has denied 12 charges involving eight women, The Guardian reported.
During an interview with police that was played to the jury Wednesday, Mendy's first accuser, known as Woman A, said that she first met him in a club in Barcelona in October 2017. She told the officer that she liked one of his friends, part of his "entourage," but it was Mendy who took a liking to her.
On Oct. 24, 2018, she traveled to Manchester to see his friend at the athlete's house. Then they went out to a restaurant in Manchester. They were joined by two Brazilian women and they all played some drinking games. Later they went to a club and champagne was ordered before they went on to a second nightclub. There she was with Mendy's friend when the Man City star approached her. The victim said that at one point he came up to her and said, "When he's not looking, I'm going to kidnap you."
She cuddled with Mendy's friend during the night out in Manchester. But after Mendy's kidnapping comment, she "made it clear" that her intentions were directed towards his friend. The group returned to the footballer's mansion. The woman spent the night in a bedroom with Mendy's friend. The following morning she went downstairs to look for a phone charger, but found Mendy sitting on a settee. She turned down his offer to go to his bedroom to get a phone charger, but he started "teasing" her over the charger.
She sent a text to a friend saying that Mendy wanted to "f***" her. She said that she thought this because the athlete had a "predatory look in his eye" that morning. In her interview with police, she recalled returning to the bedroom she was staying in, shutting the door and getting in the shower. Later she felt his presence, and "was just in shock." She said that he was wearing white boxer shorts, and he dropped them.
She saw him "rub himself on his private area. I said to him: ''You need to leave''." She told the cop that she could not remember how the incident finally came to an end, but she packed her clothes. She got dressed and left through the front door of the house to call for a taxi.