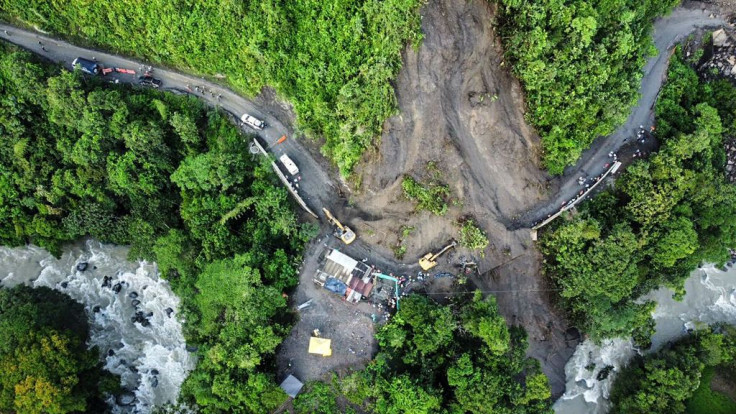 A landslide buried a bus carrying passengers in Colombia in mud and boulders as the vehicle crashed down a slope. At least 30 people have died, and numerous surviving have injuries.
According to BBC News, the bus was caught up and sent hurtling down the mountain when the landslide struck, with many passengers buried alive. The event occurred in the western Colombian region of Risaralda early on Sunday morning.
Witnesses said a car collision farther ahead caused an interstate bus, a jeep, and a motorcycle to halt and wait on a cliffside road. But the mountainside above them began to slide, and the cars became caught in it.
Associated Press said around 33 people were reportedly on board the bus. The car was apparently buried beneath two meters of dirt and soil after the avalanche struck. The motorbike, meanwhile, apparently had a driver and a passenger riding in tandem, while the automobile had six occupants.
With backhoes and other equipment in tow, officials sent around 70 searches and rescue personnel to the location to reach the victims and perhaps find survivors. They called their search to an end on Monday after twenty-four hours of search and rescue efforts.
Then, rescuers reported that 34 people had died, including eight children. The number of fatalities is higher than initially reported, about 27 deceased, of which three were children.
However, there were several survivors as news of the catastrophe spread. Before the landslide hit, one passenger helped his wife and two children in leaving the bus. He ultimately got caught up in it along with the bus, but by then it was too late for him.
At least nine people made it out alive, including one daughter who was apparently holding on to her mother's dead body.
Reports also mentioned that the bus was en route from Cali, Colombia's third-largest city, to the Condoto municipality. The bus crashed down the slope with the mud and debris after the driver, who had supposedly avoided the brunt of the landslide, was nevertheless caught up in the remainder of it.
According to Al Jazeera, La Niña has caused harsh climate conditions that Colombia and other South American nations are currently facing. An estimated 271 individuals have reportedly perished and 348 others have been injured in La Nina-related accidents since August 2021.
© 2023 Latin Times. All rights reserved. Do not reproduce without permission.