It is the season of gift-giving and some would make awkward and ridiculous wishes. That appears to be the case over in Peabody when a couple managed to steal an albino cinnamon ball python from a city pet store.
According to a report from Salem News, a couple visited a local pet store on Monday. The man, who has yet to be identified, asked the store employee if he could play with the snake. He was told that it was against store policy and the man offered to buy it instead.
The employee proceeded to place the snake in the box and placed it at the register area. The man then grabbed the box, ran with the woman from the store and boarded on a 2020 Nissan Altima that was parked outside and sped off. The vehicle was last seen heading towards Danvers, Massachusetts.
"We are aware of and shaken by the theft of a pet snake from our Petco store in Peabody," a spokeswoman for the retailer said. The statement went on to say the company is "working closely with authorities to help find the missing animal."
According to local police, pet theft from stores is unheard of, especially during the holidays. However, they said that these kinds of cases are uncommon.
Authorities also added that there may have been another reason why the couple had wanted the snake. Both may have wanted the snake as a pet or possibly intended to be sold or given to someone they know, Peabody police Capt. Dennis Bonaiuto said.
Albino ball pythons are popular pets but can bite anyone for one reason or another according to Healthline.com. This could happen if they are defending themselves or to kill a prey. A warning sign that a ball python may strike is if its neck and head form the shape of an S.
They are not venomous or have fangs, meaning their bite may not be as severe compared to other snake bites. Regardless, people who get bitten by them are advised to seek medical treatment immediately.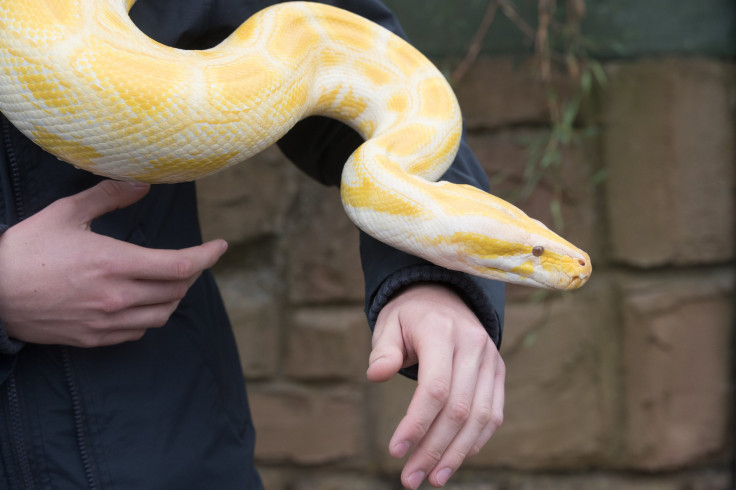 © 2023 Latin Times. All rights reserved. Do not reproduce without permission.