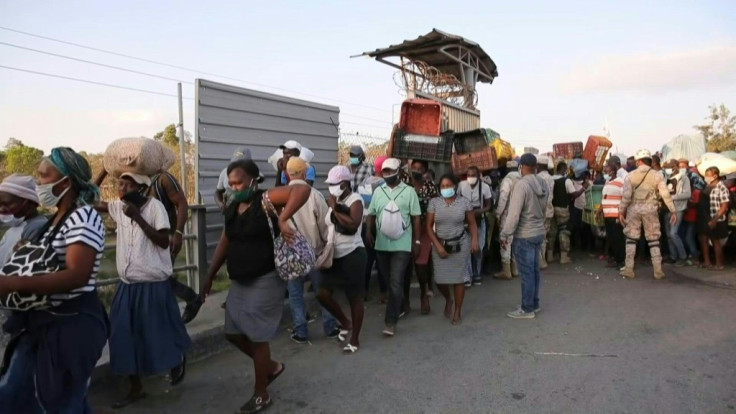 Dominican Republic President Luis Abinader announced Monday that he has suspended visas for Haitians amid an ongoing dispute over construction work at a canal in Haiti.
The Dominican government has also warned that if the issue isn't resolved by Thursday, it will "completely close the border to air, sea and land commerce," as per the AP News.
Abinader ordered the closure of the main border crossing between the Dominican Republic and Haiti — through Dajabón — last week. The border crossing near the northern town of Dajabón plays a key role in the Dominican-Haiti trade as Haitians move across the area to buy and sell various goods multiple times a week.
A commerce shutdown between the two sides is expected to affect both parties, considering how the countries are major trade partners.
On Saturday, Abinader reportedly said the border crossing would remain shut until Haiti did something about the Dominican Republic's demand for the construction of a supposed canal in the Massacre River to be discontinued.
Also last week, Homero Figueroa, spokesman of the Dominican Republic Presidency, said Haitian citizens had responded to Abinader's call, working to seal the passage of water from the Massacre River following the main border crossing's closure.
The Dominican Republic wants Haiti to stop work on the canal, which is within the latter's side of the border, saying the canal will divert water from the Massacre River toward the Dominican side and have a negative impact on farms and the environment.
The Massacre River, which runs in both countries and divides the two, was named after the killing of French buccaneers by Spanish settlers in the 1700s. Haitian Prime Minister Ariel Henry has reportedly expressed concern over the situation, saying a delegation from Haiti's Ministry of the Interior has been sent to the area to resolve the matter.
It is unknown who authorized the construction of the canal.
Tensions between the countries have been high for decades. Foreign policy experts have suggested tensions spiked in recent years as the Dominican Republic moved to deport undocumented Haitian migrants.
Under Abinader, the Dominican Republic has sought to limit Haitian migration into the country. His government has also expelled tens of thousands of Haitians and individuals of Haitian descent.
Former interim Haitian Prime Minister Claude Joseph, a known Abinader administration critic, said critics of the canal construction were nationalists and racists. Joseph was banned from entering the Dominican Republic in September 2022 over issues not related to the canal dispute.
© 2023 Latin Times. All rights reserved. Do not reproduce without permission.