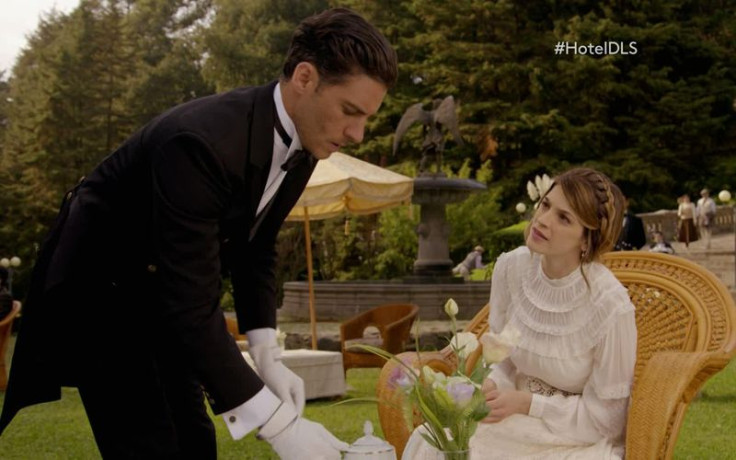 Univision's primetime telenovela "El Hotel De Los Secretos" has us glued to the tv screen every night as the plot continues to thicken. If you are addicted to this series just like us and want to know what happens next, continue reading for exclusive spoilers. With that said... Spoiler Alert! Spoiler Alert! This week Isabel (Irene Azuela) will confess to Julio (Erick Elías) that Cristina Olmedo (Ximena Herrera) was Diego Montejo's (Jorge Poza) lover. With reason enough, Julio swears that he will avenge his sister and go against Diego.
A new crime is committed in the town. Isabel accuses Diego of being a murder with the authorities. Sofía (Dominika Paleta) catches Diego kissing Belén (Ilse Salas). Sofía asks her mother Teresa (Diana Bracho) to kick Diego out of the Grand Hotel and threatens her in telling Isabel. Detective Ayala (Jesús Ochoa) has an arrest order for Diego and goes to the hotel to take him to jail. This and many more things will be happening at the luxurious Grand Hotel. We won't be missing an episode this week every weeknight at 10pm/9c on Univision.
In previous episodes we saw how Julio had been inching up and getting closer to the truth in finding out what happened to his sister Cristina. Pascual kidnapped Isabel in an attempt to run away with Diego's money. The latter caught up to them and saved Isabel by killing Pascual. Andres (Carlos Rivera) was accused of murdering the woman that was found in the woods, when Felipe (Pablo Cruz) planted the golden knife in his belongings. Pascual was framed for the murder and Andres was freed.
Teresa promoted Belén and is now Angela's (Daniela Romo) assistant. Belén, obviously, taking advantage of her authority, abuses it and Angela put her in her place pulling rank. Detective Ayala (Jesús Ochoa) believed that Julio (Erick Elias) is a phony when he spots a tattoo that prisoners get. Julio returns to the cantina and ends up in a fight to get information on the whereabouts of his sister Cristina (Ximena Herrera). Julio arrives back to the hotel drunk and beaten and insults Isabel. Detective Ayala uncovered the real identity of Julio and makes him a proposal to become a mole and spy on the shenanigans going on at the hotel.
© 2023 Latin Times. All rights reserved. Do not reproduce without permission.