A 62-year-old man in India allegedly killed his estranged wife in a suicide bomb attack on Tuesday, Oct. 5.
According to local sources, the man, identified as Rohmingliana was reportedly wearing a gelatin vest when he pounced on the 61-year-old victim, Tlanthianghlimi.
The bomb exploded in the busy streets outside the office of the high-power committee in the Lunglei district, where Tlangthianghlimi was selling vegetables with her 40-year-old daughter from her first marriage.
Rohmingliana allegedly had a history of being 'violent'. Accounting witnesses, he picked fights with the victim and her family members and often assaulted her in front of her children.
Reportedly, he was her second husband and they had two sons. A year ago, the couple parted ways and were not on good terms since then, reports said.
On Tuesday afternoon, Rohmingliana went to meet Tlangthianghlimi, sat down next to her in the street, and asked her to roll a local cigarette for him, to which she obliged.
"After he lit the cigarette, Rohmingliana feigned dizziness due to fever and suddenly pounced on her, which was followed by a loud explosion," the Times of India quoted an eyewitness as saying.
Shocked onlookers rushed the duo to the Lunglei district hospital where doctors declared them brought dead.
Following an autopsy, Rohmingliana's and Tlangthianghlimi's bodies were sent to the Thiltlang, a village located about 73 kilometers north of Lunglei, where their family performed their last rites.
Luckily, Tlangthianghlimi's daughter who was at the scene managed to escape the blast unhurt.
According to the police, Rohmingliana was wearing a gelatin bomb west under his clothes which exploded when he jumped on the victim.
The blast is being investigated and officers are probing locals and victims' family members to identify how Rohmingliana managed to gain access to the lethal weapon.
A similar brutal murder-suicide was reported from India's Odisha on Wednesday, Sept. 8.
A 34-year-old farmer in Putabagada village of Ganjam district in Odisha allegedly slit his wife's throat and strangulated their 10-month-old son before hanging himself to death.
The bodies of Sujan Pradhan, his 28-year-old wife Runi, and their baby boy were discovered by his mother when she returned home from work.
She found Pradhan hanging dead from the ceiling while Runi and the infant laid nearby in a pool of blood.
The motive behind Pradhan's decision to take such a drastic step is still unclear. No suicide note was recovered from the scene.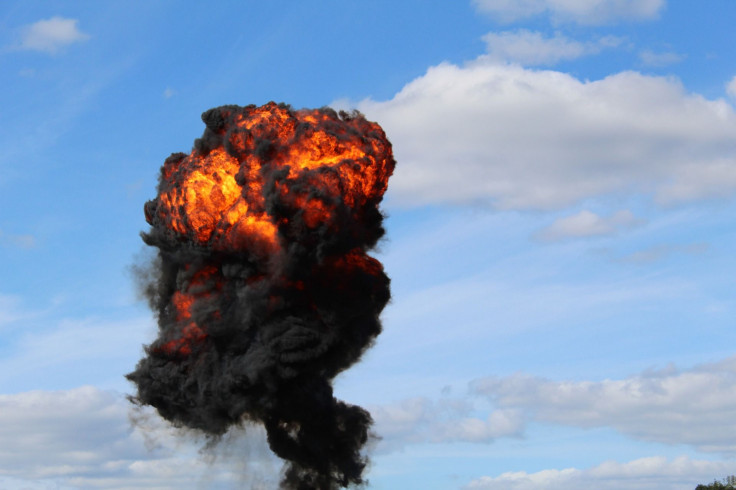 © 2023 Latin Times. All rights reserved. Do not reproduce without permission.