Football star Cristiano Ronaldo, 37, was ruthlessly axed by boss Erik Ten Hag in front of the Manchester United squad during a two-hour meeting Thursday.
Ten Hag called the team members together and urged them to air any grievances without the threat of repercussions, reported The Sun. He also told Ronaldo and captain Harry Maguire that they would not be starting against Liverpool on Monday. Ronaldo remained silent during the tense two-hour showdown instigated by Ten Hag, reported Mirror. But many players had their say. The manager also laid down the law to his under-performers.
According to Sport Bible, Ronaldo continues to be linked with a move away just a year after returning to Man Utd. At this point, Ten Hag is said to be fed up with the saga and wants him out.
The former Ajax boss was particularly angry earlier this month after the Portuguese footballer promised that he would soon deliver a tell-all interview. Now Ten Hag just wants the forward out, while many players feel Ronaldo's mood and attitude are affecting spirit in the camp.
In the no-nonsense address to the squad, Ten Hag told his players that it is his way or the highway. He invited everyone to have their say at the training ground as he tried to get to the bottom of why they had not performed well in the opening two games. In a two-hour showdown, the Dutchman told the players that he had the full backing of the Man Utd board to do everything his way.
He said that if anyone did not like it or did not want to play for him, they were invited to tell him there and then. The players were also free to leave the club. Ten Hag also said that he would not have his underperforming stars ruining his reputation.
He made four changes to the team from the 4-0 defeat at Brentford. He informed Ronaldo and Maguire during the meeting that they were out. He had previously said that he wanted the players to be angry and to channel that anger into their performances.
As for transfer rumors, Ten Hag is said to be looking to bring in new recruits with Antony Martial, who worked with him at Ajax, their key target.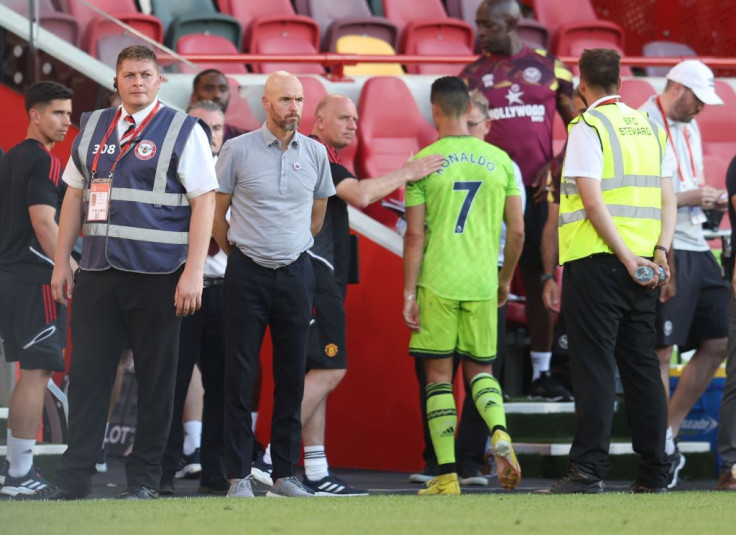 © 2023 Latin Times. All rights reserved. Do not reproduce without permission.