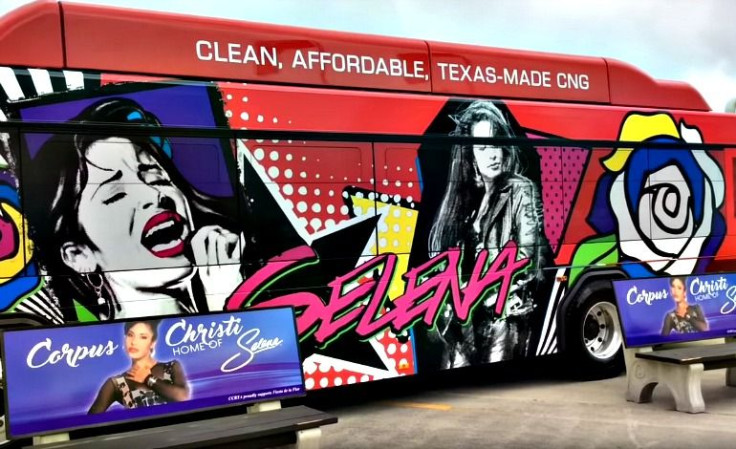 Selena Quintanilla's legacy is never ending and her fans, loved ones, and even renowned cosmetic brands can prove it by keeping her spirit alive for the past 21 years. Honoring the late Queen of Tejano is also the Corpus Christi Regional Transportation Authority (RTA), which officially launched a set of Selena-themed buses expected to debut and make the rounds at the 2nd annual Fiesta de la Flor festival.
The unveiling of two vibrant city buses and models of bus benches were presented Monday at a press conference held in the RTA headquarters in Selena's hometown. "[It's] something that we're very proud of and I'm hoping that our city would be too," said Suzette Quintanilla to Caller Times. "I'm really excited because it's going to be running during Fiesta de la Flor which is May 6 and 7," she added of the buses and benches that will launch to the public the first weekend of May.
"Every time Selena would do an interview she would always say she was from Corpus Christi," she said. "She was very proud of her city. To have her image rolling around the city is going to be amazing." At the conference, it was revealed that Chris Dominguez, graphic designer at Q-Productions, designed the colorful bus wraps, which were provided by Iconic Sign Group. "We wanted to have a very classic Selena image and we also wanted something colorful and it represents her," Quintanilla told CT. "It's very retro, late 80s and early 90s, which was pretty much our era."
Selena's widower, former Los Dinos guitar player, and Grammy-winning artist, Chris Perez, also joined the Quintanilla family at the unveiling of the buses. "I'm excited to see the buses for the first time," he said to Caller Times. Although Perez does not reside in Corpus, he stated that he's looking forward to catching the buses on the road. "I know I'm going to get caught off guard," he said.
According to Jorge Cruz-Aedo, CEO of RTA, 15 bus benches will be placed along Weber Road and the Selena-themed buses are expected to run until October. Fiesta de la Flor 2016, which is already becoming a tradition for fans, will run from May 6 to 7 in Texas. Music headliners include renowned Tejano artists such as Pete Austudillo, Chris Perez, and La Mafia. In the meantime, here are 21 reasons you can't miss this "Bidi Bidi Bom Bom" celebration.
© 2023 Latin Times. All rights reserved. Do not reproduce without permission.