During FIFA World Cup 2022, Bruno Fernandes overshadowed Cristiano Ronaldo by scoring both goals for Portugal on Monday.
Portugal's 2-0 victory against Uruguay sealed a place for the team in this year's World Cup's knockout round for the 2016 European champions, reported ESPN. Portugal joined Brazil and France by securing its place in the round of 16. Portugal was able to overcome Uruguay by winning without relying on Ronaldo's goals. Fernandes, who is a midfielder, is a Portugal player who is a star in his own right, but too often overshadowed by Ronaldo.
Ronaldo, on the other hand, tried to sneakily claim one goal that he didn't score against Uruguay. Now without a club following his exit from Manchester United last week, he has become the first player to score in five World Cup tournaments. It happened when he netted a penalty in the 3-2 win against Ghana in Portugal's opening game in Qatar.
But the 37-year-old also tried to deny Fernandes the opening goal in Monday's game against Uruguay. He did so by reacting to the 54th-minute strike by celebrating as though he had headed in the midfielder's cross. At first glance, there seemed to be the faintest contact from Ronaldo's head, but his reaction suggested that he had delivered the crucial touch.
A series of replays showed that Ronaldo had not touched the ball or even diverted it into the net. Moments later the big screens in the Lusail Stadium announced that Fernandes had been awarded the goal. At the time, Ronaldo was seen looking at the screen and giving what appeared to be a nervous laugh of trying to mask his disappointment.
The goal was to be Ronaldo's ninth World Cup strike, which would have brought him level with the Portuguese legend Eusebio, reported BBC.
Speaking to journalists after the game, Fernandes said that it didn't matter who scored the goal, according to GOAL. Whether it was him or Ronaldo, the important thing for him was "to get out of the group. We are in the last 16," he added.
Before this year's World Cup started, Ronaldo had shared his desire to beat Eusebio's World Cup record.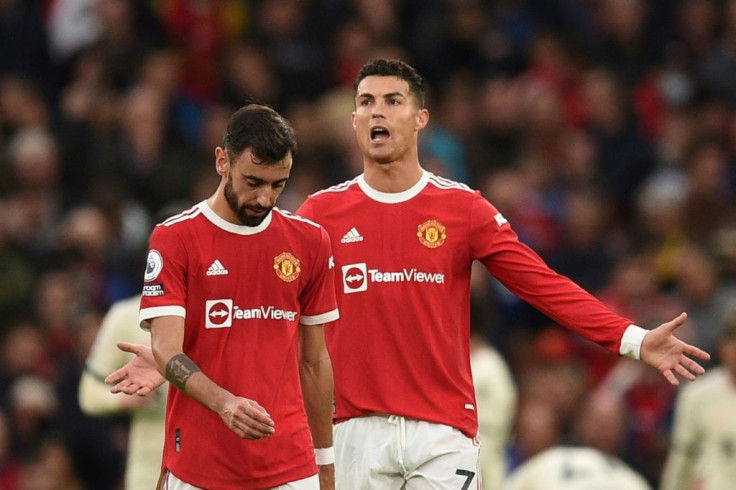 © 2023 Latin Times. All rights reserved. Do not reproduce without permission.