Cam F Awesome, previously known as Lenroy Thompson, may be into acting these days but continues to follow the sport of boxing. He never made the jump to professional boxing and instead took a different path.
The 32-year-old was best known for his fights in the amateur ranks, a reason why most felt he would have been a success in the heavyweight division.
Awesome was not spared from controversy. He was suspended in 2012 for a year by the US Anti-Doping Agency (USADA) for multiple failures tied to drug testing.
Regardless, the American boxer racked up several titles to his credit. That included winning the US title in 2008, 2010, 2013 and 2014 and the Golden Gloves in 2009, 2011 and 2013 at super heavyweight.
Known best as a counterpuncher, Awesome focused on other things. However, he is still pretty much keeping tabs with boxing, updated with the latest boxers of this time. One of them is Manny Pacquiao.
Incidentally, Awesome became a vegan after losing a bet when Pacquiao lost to Timothy Bradley Jr. in 2012. He was rooting for the Pac-Man at that time, admitting that he usually sides with the southpaw because that is his fighting style.
Awesome explained all this when he appeared on the Sports For All PH podcast last July 3 hosted by Vincent Juico, Rica Aquino and Brian Yalung. When asked to comment about Pacquiao, he had plenty to say – including why he looks up to Pacquiao as one of the greatest fighters in his book.
"I have some biases. For one, as a southpaw, anytime two people are fighting, in my head I usually go for the southpaw. On top of that, I love Manny Pacquiao, he is not really a boxer. He does all these different things. Boxing is just one of the things that he does. And as a person who views the person in the same way, that is why he is one of my favorite fighters, because fighting is not the main thing he does. That's why I love him," Awesome explained.
Aside from that, Awesome was asked if he felt Pacquiao was at a disadvantage because he was already 42. He responded by singling out another boxer who fought through his 40s and 50s, Bernard Hopkins.
"How old was Bernard Hopkins? He fought at 51. He was dominating. We were trained to think that like after 25 it's a little bit downhill. I'm 32 and I've been the strongest I have ever been. We have science," Awesome explained.
"Manny Pacquiao is not 42. He might be 42-years-old, but think about when you were 10 years old. Remember what 42-year-old's look like? They don't look like that anymore. We are not aging the same if you take care of your body…And Manny Pacquiao, I have seen a picture of him overweight in all my life. He has been taking care of his body. That man is a machine. So yeah, someone may say he is 42 but he ain't no 42," Awesome added.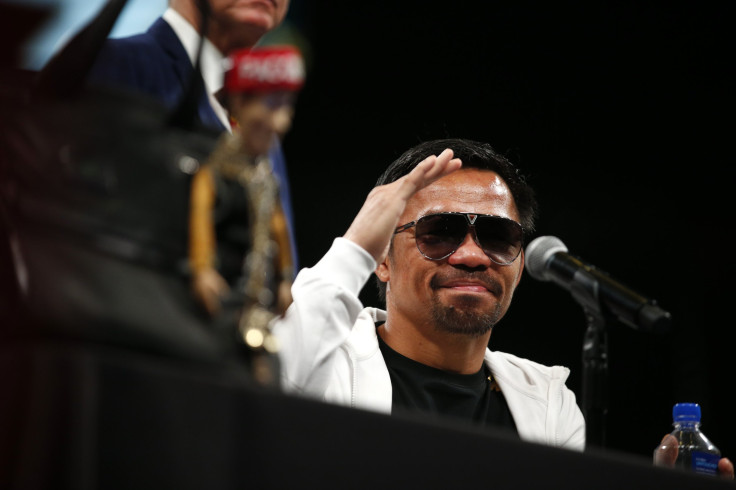 © 2023 Latin Times. All rights reserved. Do not reproduce without permission.