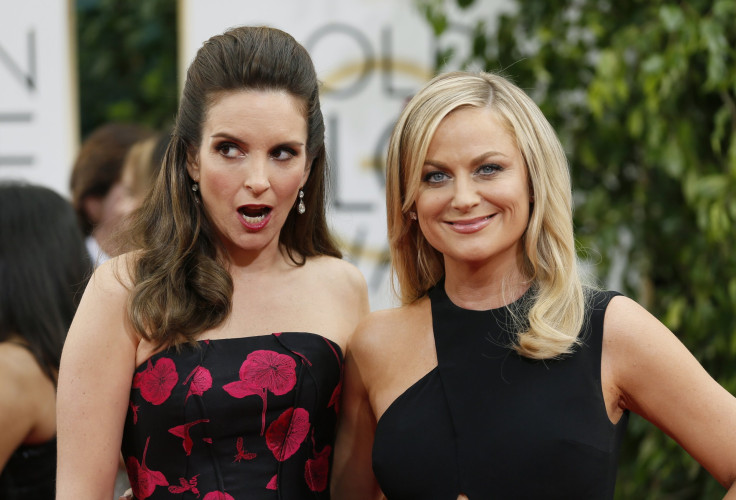 Tina Fey and Amy Poehler are two of the funniest women on TV. From their days on "Saturday Night Live" to Fey's "30 Rock," Poehler's "Parks and Recreation" and their joint effort in "Baby Momma" as well as previously hosting the Golden Globes, it is not hard to see why these funny ladies have Hollywood in stitches. Last night was the 71st annual Golden Globe Awards and Fey and Poehler were back for round two as hosts. The pair stunned with their gorgeous gowns and witty satire.
Some of the best moments of the night came when Fey and Poehler were on stage giving it good to Hollywood's elite. While we were all touched by some of the speeches from award recipients, especially Jennifer Lawrence and her genuine shock each time she gets an award, the night belonged to Tina and Amy. Here is a list of the best quotes from Tina Fey and Amy Poehler as they hosted the 71st Golden Globe Awards.
(1) "Matt [Damon], on any other night, in any other room, you'd be a big deal. Tonight, and don't take this the wrong way, you're basically a garbage person," Amy Poehler. Speaking about Matthew McConaughey and his role in "Dallas Buyers Club," Fey said (2) "For his role in "Dallas Buyers Club" he lost 45 pounds, or what actresses call "being in a movie."" When Poehler was talking about Jonah Hill and his role in "The wolf Of Wall Street" she said:
(3) "Some of it was too graphic. If I wanted to watch Jonah Hill masturbate at a pool party, I would go to one of Jonah Hill's poll parties." Keeping with "The Wolf of Wall Street" theme Tina Fey introduced one of the film's stars saying, (4)"And now like a supermodel's vagina, lets give a warm welcome to Leonardo DiCaprio." Tina Fey had one of the funniest lines of the night when she discovered what "Gravity" was about. (5) "It's the story of how George Clooney would rather float away and die than spend one more minute with a woman his own age."
Not even legendary direct Martin Scorsese was safe from Tina Fey and Amy Poehler. The "Parks and Recreation" actress had this to say about Scorsese: (6) "Woody Allen is the recipient of this year's Cecil B DeMille Award, just a few years after Martin Scorsese won. I assume the award is for the tiniest man with the biggest glasses." Poehler also got a dig in on Scorsese when she and Fey opened up the show saying, (7) "We're going to get this show done in three hours, or as Martin Scorsese calls it, act one."
© 2023 Latin Times. All rights reserved. Do not reproduce without permission.