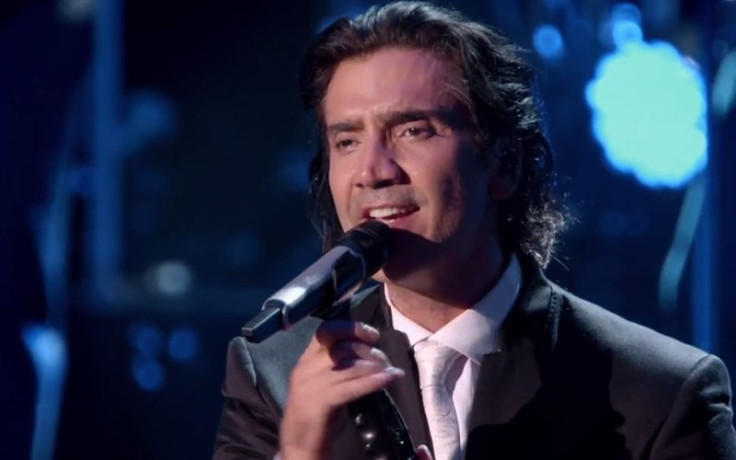 "Hasta El Fin Del Mundo" not only transitioned Pedro Fernández to David Zepeda last night, it also changed its theme song. Since Fernández is not part of the telenovela anymore, a new Fernández took over the love song duties. Alejandro Fernández will be taking over the reigns and will sing "Te Amaré." The cover done by Alejandro is from the Miguel Bosé classic that sounds splendid when both protagonists are on the scene. We are just glad the producer Nicandro Díaz, did not let Zepeda sing because that would be a catastrophe. We love David, but as an actor, not a singer. However, it is possible that in the near future one of his melodies will be part of the musicalization of the scenes, but it won't be the main one. Listen to "Te Amaré" down below and tell us what you think!
It finally happened! Pedro Fernandez's last scene on "Hasta El Fin Del Mundo" was aired in México last night. Episode 79 saw the transition from Fernández to David Zepeda only two weeks after the former quit the Televisa melodrama. The beautiful scene had Pedro as Chava laying on his bed and reminiscing on a kiss with the love of his life Sofía Ripoll played by Marjorie De Sousa. We are transported into a beautiful natural set in the middle of greens as they share a kiss. The camera then circles around the couple and... BOOM! Zepeda appears on screen kissing De Sousa. We are taken back to the bedroom where Chava had closed his eyes and Zepeda is posing the same way Fernández was. Sofía and Chava then call each other over the phone and in the "Hasta El Fin Del Mundo" world, Chava is now David Zepeda.
Last week Pedro Fernández shocked telenovela fans when he announced he was quitting "Hasta El Fin Del Mundo," confirming the rumors that had plagued the production for weeks. "The truth is that it's been five months of an intense rhythm of work, I have lost a lot of weight and my doctor recommended to lower the rhythm," Fernández told Javier Poza on his Radio Fórmula show. "I need to take care of myself and it saddens me leaving the project like this for respect to my fans, but my health is first." Although the official version was that Fernández was ill, insiders have said that it was his wife that gave him an ultimatum, or it was his marriage or the production. Rumors claim the wife was jealous of Marjorie De Sousa and couldn't handle seeing her husband getting close with the Venezuelan beauty.
© 2023 Latin Times. All rights reserved. Do not reproduce without permission.