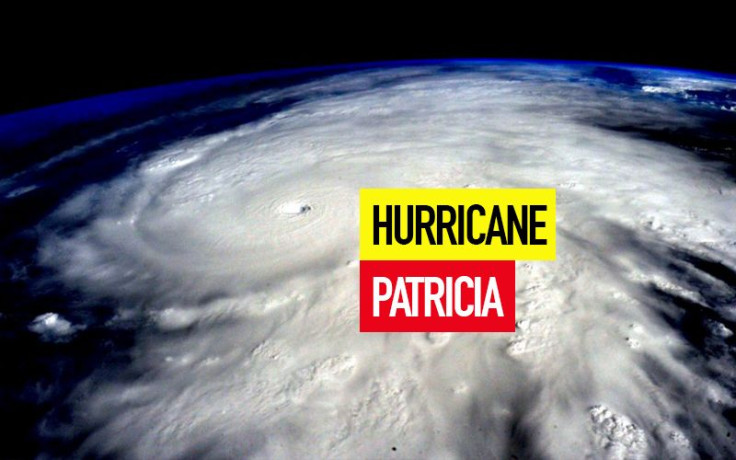 Mexican residents living off the Pacific Coast are experiencing the fury of Hurricane Patricia as it makes landfall. People affected by the monstrous storm are recording the moment and sharing on social media. Mexican authorities have warned citizens to stay in their homes if they are not in danger or look for the nearest shelter. The wind force is the strongest on record surpassing Hurricane Andrew and Katrina. The system is expected to reach up to 200-mph sustained winds with higher gusts and produce rainfall from 8 to 12 inches. The rain could produce "life-threatening flash floods and mud slides," according to the National Hurricane Center. RELATED: Hurricane Patricia Live Stream Videos!
This area of Mexico has had it rough this year, with Andres forming in the Pacific, but that was never a threat to hit landfall. Back in June, Hurricane Blanca gained steam and reached Category 4 with winds of about 130 mph and became a threat of causing damage. The stormed thankfully weakened during its final phase when it encountered cooler water and low wind conditions, being downgraded into a tropical storm. Last year, Hurricane Odile hit the region causing destruction in the area and Patricia might be the most catastrophic one yet. Watch the videos from the people experiencing Hurricane Patricia down below!
@RafaAlcalde1 @NickoMeteo Unbelievable video #HuracanPatricia @NewsSourceLA @LAScanner @KTLA pic.twitter.com/QFAlsUvfU4

— Red de Emergencia (@reddeemergencia) October 24, 2015
Jesus.... #HuracanPatricia pic.twitter.com/zlg8bteA5z

— Julita lionheart (@cabeyospiderman) October 24, 2015
Aquí una grabación del #HuracanPatricia de mi amiga perla capote! pic.twitter.com/BetBHqUEQR

— Jorge Van Rankin (@burrovan) October 23, 2015
my heart goes out to everyone who is about to be affected by #HuracanPatricia pic.twitter.com/FB05yonUPx

— BILL_NYE_THO (@Bill_Nye_Tho__) October 23, 2015
#HuracánPatricia Este video fue tomado hace minutos en Manzanillo, Colima; extreme precauciones https://t.co/1LKOMhe8Kr

— Noticieros Televisa (@NTelevisa_com) October 23, 2015
Así el viento en #Manzanillo por #HuracánPatricia Vía @valerytc28 pic.twitter.com/bWMTr9rUWZ

— Hechos Puebla (@hechos_puebla) October 23, 2015
El #HuracanPatricia en la zona costera de #Michoacan pic.twitter.com/nbjXmmA6c2

— Moreliactiva (@Moreliactiva) October 24, 2015
#video de #Manzanillo del #HuracanPatricia se nota su #fuerza #Colima #Huracan #Patricia #Jalisco #Mexico pic.twitter.com/0cRGsm1SCZ

— Ricardo Rodriguez T (@rrodriguezdf) October 24, 2015
Efectos del #HuracánPatricia esta tarde en playas de #Colima pic.twitter.com/5GULTHi8gp

— Carlos Zúñiga Pérez (@CarlosZunigaP) October 24, 2015
#HuracanPatricia #VIDEO desde Manzanillo #Colima pic.twitter.com/LTD62BLHbm

— JUSTINO MOLINAS (@Jusmolinas) October 24, 2015
Increíble #HuracánPatricia vuela un camión en la autopista Manzanillo #México #Patricia #PrayForMexico @Deb_Estrella pic.twitter.com/GGFVoXL652

— Myteks Media Labs (@myteks) October 24, 2015
© 2023 Latin Times. All rights reserved. Do not reproduce without permission.