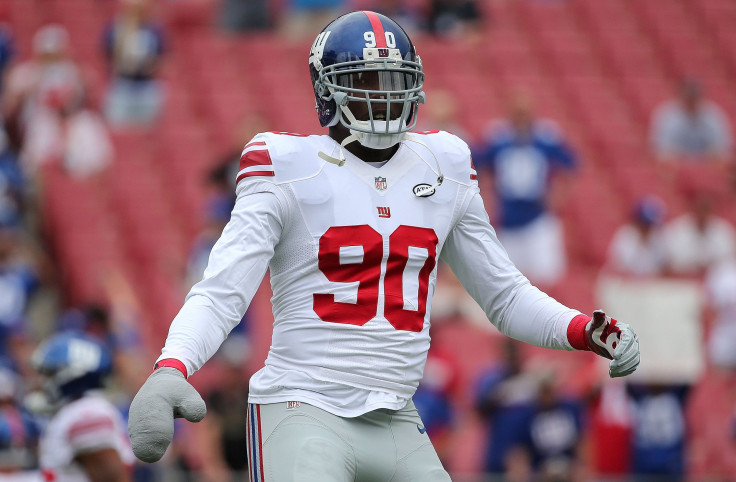 The Giants suffered their first loss since Week 5 on Sunday and it came at a cost.
Veteran defensive end Jason Pierre-Paul was hurt during the Giants 24-14 loss to the Pittsburgh Steelers. Pierre-Paul did not return after leaving with a groin injury during that disappointing defeat at Heinz Field. According to SportsNet New York, Jason Pierre-Paul may avoid surgery, but it looks like he will be out for a couple of weeks.
More than likely a definitive answer on Pierre-Paul's status should come by Tuesday night. The 27-year-old Super Bowl champion will be evaluated in Philadelphia by surgeon William Meyers.
"It's just pulled. Not too many details that I know. No, it doesn't concern me at all. We'll see. It was frustrating, especially when I'm sitting out, it sucks to just watch it in our locker room," Pierre-Paul said.
Whether or not it's a simple muscle pull or a major tear remains to be seen. A tear could mean that Pierre-Paul could potentially be out for the remainder of the season. A pull, on the other hand, may result in a missed game or two.
Pierre-Paul ranks second on the Giants this season with seven sacks, just one behind Olivier Vernon. He's played very well considering his offseason fireworks incident that damaged his hand very badly. The Giants defense now ranks No. 8 overall as far as points allowed, but the thought of not having Pierre-Paul for December is a cringing thought for Giants fans.
© 2023 Latin Times. All rights reserved. Do not reproduce without permission.