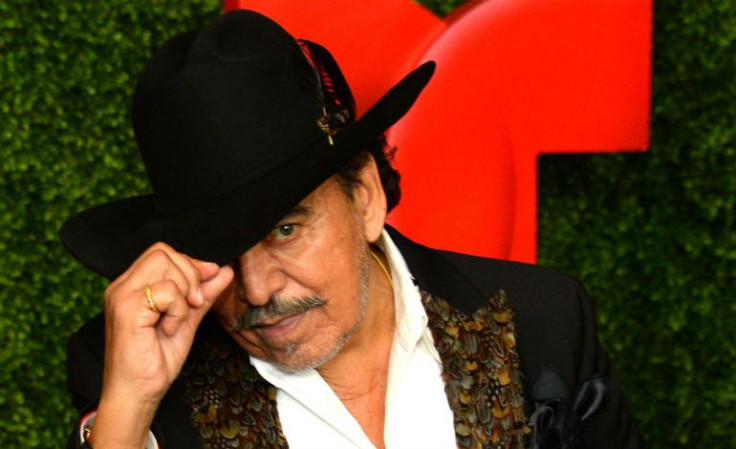 It's a sad day in the music world with the passing of the iconic Mexican singer Joan Sebastian, who lost his battle with cancer at age 64. The multi Grammy award winner battled with the disease for 16 years after being diagnosed with bone cancer in 1999. He passed away at 7:15p.m. (local time) on Monday in his ranch located in Juliantla, Guerrero, Mexico. With a successful trajectory that began in the late '70s, the singer and songwriter leaves behind an incomparable legacy via his music. We remember the legend with some of his best quotes from songs.
1) "No me juzgues, no me celes, voy en busca de las mieles de otra flor". - Contigo, o sin ti
(Don't judge me, don't be jealous, I'm in search of honey in other flowers)
2) "Me gusta amanecer pensando que me quieres, soñarte se hizo ya el mayor de mis placeres, me gusta todo, todo me gusta... de ti". - Me Gustas
(I like to wake up thinking that you love me, dreaming of you has become my biggest pleasure. I like everything, everything about you)
3) "Me iré, aunque eres mi necesidad, te dejo, pero eso de que te olvide, no sé". - Tatuajes
(I'm leaving although I need you, I'm leaving you but I'm not sure if I'll forget you)
4) "Delante de la gente no me mires, no suspires, no me llames, aunque me ames, delante de la gente soy tu amigo". - Secreto de Amor
(In front of people don't look at me, don't sigh, don't call me, even though you love me, in front of everyone I'm your friend)
5) "Sé que no merezco tu perdón, que lastimé tu corazón, hoy me avergüenzo, fui el motivo de tu llanto, queriéndote tanto". - Un Idiota
(I know I don't deserve your forgiveness, that I hurt you, I regret it, I was the reason you cried, and I loved you a lot)
6) "El cielo gris siempre me pone el corazón sentimental". - Sentimental
(The grey skies always make my heart sentimental)
7) "Y las mariposas volaban de flor en flor y nos enteramos por primera vez lo que es el amor". - Y Las Mariposas
(And the butterflies flew from flower to flower and we knew for the first time what love was)
8) "Quiero volver a ese pueblo en la montaña donde tengo mi cabaña y mi razón de ser. Como añoro como extraño mi caballo, mi rebaño y mi perro fiel". - Juliantla
(I want to go back to that town in the mountains where I have my ranch and my reason of being. How I miss my horse and my faithful dog)
9) "No me des mentiras, no me des explicación se bien lo que quiero y esta es mi desición, vete o me voy...." - Vete O Me Voy
(Don't lie to me, don't give me excuses. I know what I want and this is my decision, leave or I'm leaving)
10) "Probablemente, no entiendas mi partida, pero amar y sufrir, son parte de la vida". - Dos Mares
(Probably you don't understand why I'm leaving, but to love and to suffer are parts of life)
© 2023 Latin Times. All rights reserved. Do not reproduce without permission.