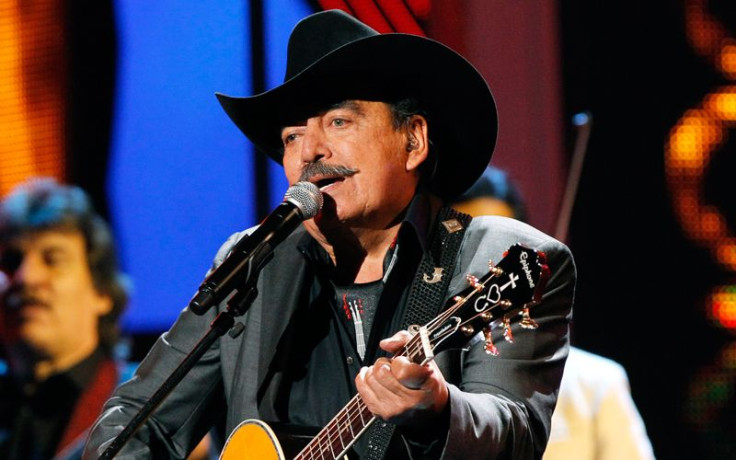 Joan Sebastian has died at the age of 64, losing his battle with cancer in the bones. He passed away in his ranch located in Juliantla, Guerrero, Mexico at 7:15pm (local time). Weeks ago it had been confirmed that the singer had been hospitalized and undergoing cancer treatment under medical supervision. Julián Figueroa, son of "El Rey Del Jaripeo" and Maribel Guardia, confirmed the news at the time to morning show "Hoy." Figueroa confessed that when he was previously asked about his father's condition he had to deny the rumors as he was not authorized to talk about it and is now confirming that his father is not in critical condition. "My father is not in the middle of a horrible crisis," he said. "We are going to inform the public so they are aware and so they won't worry about my father. What is happening is that he's under a new treatment that they are testing on my father. They are doing it at the hospital so they can see the results. My father is stable, obviously with the implications of having cancer, but he isn't in greater danger."
In early 2014, Joan Sebastian revealed that he was battling cancer for the fourth time during his performances in Zacatecas. The 64-year-old singer told morning show "Hoy" that he had undergone chemotherapy prior to his presentations and still went through with the show. "We booked these dates two months ago, I didn't know that I would need chemotherapy again," he said at the time. "I am very conscious that this is something I have to deal with and I have fortunately been able to pull through." The "King Of Jaripeo" had difficulties going up the stairs and remained seated during his number, which he acknowledged to reporters saying, "I felt weak on stage."
Although the "Secreto de Amor" singer lost his battle to cancer he was always hopeful and had no plans on leaving the limelight. "The love and claps from the audience is what keeps me going, I will not be retiring," he said. "I am very aware of the chemotherapy experience." In 1999 Joan Sebastian was diagnosed with cancer in the bones and it came back in 2007 and 2012. In February 2014 the "Lobo Domesticado" singer said he was retiring from the "jaripeos" shows that has him singing in a rodeo atop a horse. "I am not retiring, I am saying goodbye to the rodeos only. I am 62 years old and I am satisfied with what I have accomplished, but I know I am not getting younger," he told reporters in his Las Palmas ranch. "I want to retire on a high, I'm retiring from horses because I cannot mount anymore. There are various indicators and some members of my family suffer too much, it's the moment." His voice can still be heard nightly on Univision during the opening credits of "Amores Con Trampa" with the song "Trampa."
© 2023 Latin Times. All rights reserved. Do not reproduce without permission.