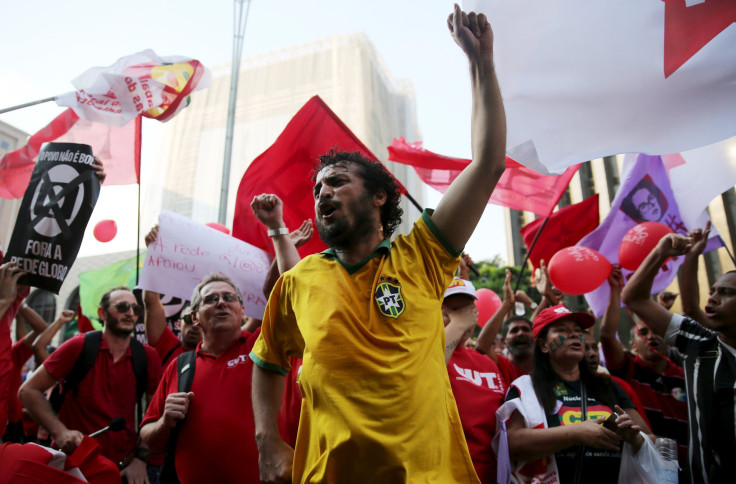 Brazil is digging to the depths of a political crisis. Worker Party (PT) president Dilma Rousseff is fighting off calls for her resignation and impeachment, while simultaneously shielding her mentor, former president Luis Inacio Lula da Silva against an money laundering investigation. Anti-government protesters have taken to the streets en masse calling for her impeachment, resignation and even a military coup. That's right -- a military coup. Many Brazilians are uncomfortable with that, and oppose impeachment proceedings as a sort of coup in itself. Oliver
"The Brazilian legislature is moving to impeach President Rousseff although they may not be a great position to judge, given that 60 percent of them face criminal charges of some kind, ranging from fraud to homicide ," Oliver said, citing a New York Times article by Simon Romero and Sergio Peçanha. "Think about that -- the Brazilian legislature potentially contains 40 percent fewer criminals, per capita, than the Brazilian prison system."
You might not get that impression reading standard pavement-pounding, up-to-the-minute daily news reports. Last week's massive anti-Rousseff protests happened on a Thursday, following the her announcement that she would appoint Lula as her chief of staff (helping shield him from an investigation) and the release of an audio tape between Rousseff and Lula that suggested they planned the move in advance. The narrative was simply irresistible, and complex enough to, in some cases, omit the context or the other side of the story.
To find that context, you often have to look from reporters who, like Oliver, are from across the pond. As the BBC's Wyre Davies observed on Monday, there is another side to the story Brazil crisis: There may be bigger threats than Rousseff's removal.
"At pro-government rallies, the crowds are mixed-race and largely from working-class backgrounds - people who have benefited in recent years from those innovative welfare [policies]. They denounce calls for the president's impeachment as nothing more than an attempted coup against a democratically elected government," he writes.
Those pro-government rallies have been massive as well (if not slightly smaller than the anti-government rallies). On Friday, an estimated 95,000 -250,000 people who turned out in support of Lula in a single city (São Paulo), with tens of thousands of supporters turning out in other cities. But those marches happened at the end of the week, in a timezone that's four hours ahead of California and one hour ahead of New York. By the time the reports came in, less people were watching and writing about them. Outlets like NPR followed the blow-by-blow of the ensuing chaos, in which a number of judges blocked Lula's questionable but perfectly legal cabinet appointment, even after Brazil's highest court ruled on it.
As David Zirn writes in How the Rio Olympics Could Cement a Brazilian Coup for the Nation, "the story we may be missing could be how these narratives might connect to build support for what Rio-based journalist Glenn Greenwald has called 'a judicial coup'—organized by a thoroughly corrupt ruling class—that would depose the Workers' Party and install a new, right-wing government into power."
John Oliver, the British jokester and Daily Show alum who once told told Jorge Ramos 'I'm not a journalist [...] I make jokes about the news," doesn't go deep into the threat of a coup, but crystallizes the situation in a couple of seconds, probably better than any news anchor on television. Then, he brings turns the whole idea of Brazil's political chaos back on the heads of his American audience.
"That's right, the judiciary is now in open revolt against the executive branch," Oliver said concluding his segment adding "Let's all enjoy this brief moment of feeling superior to the political chaos of Brazil because it's exactly how the rest of the world will feel this summer watching the Republican Tear themselves apart denying the person who got the most votes the nomination," in reference to Donald Trump, who is expect to clinch a plurality of GOP delegates but fall short of the 51 percent required for him to win.
A big thanks to Brazilian journalist and commentator Mauricio Savarese who bought this clip to our attention.
© 2023 Latin Times. All rights reserved. Do not reproduce without permission.