Two suicide bombers reportedly killed 13 people at one of Kabul's main airport entrances, barely hours after western intelligence services warned of an imminent and "very genuine" terrorist danger.
A Pentagon official confirmed U.S. casualties and described the attack as a "complex attack" involving one suicide bombing near the Abbey gate entrance to the airfield and a second near the Baron hotel, which has been used in the past for rescue and evacuation.
"We can confirm that the explosion at the Abbey Gate was the result of a complex attack that resulted in [several] U.S. & civilian casualties," Pentagon Press Secretary John Kirby tweeted. "We can also confirm at least one other explosion at or near the Baron Hotel, a short distance from Abbey Gate. We will continue to update."
The blast came only hours after the State Department advised Americans outside the Kabul airport's gates to "leave immediately" because of the growing terrorist threat. Blinken had indicated on Wednesday that an attack was a "very real possibility."
The State Department acknowledged a huge explosion and allegations of shooting in an advisory sent on Thursday. "U.S. citizens should avoid traveling to the airport and avoid airport gates at this time," the warning said.
"U.S. citizens who are at the Abbey Gate, East Gate, or North Gate now should leave immediately," the bulletin added.
The strike killed at least 13 individuals, including children, according to a Taliban spokesperson who spoke to Reuters. Taliban guards were among the wounded. According to one emergency hospital in Kabul, 30 people were injured, with six dying en route to the hospital.
British and Turkish military sources told The Guardian that the attacks involved two bombs, with immediate suspicion falling on Islamic State's affiliate in Afghanistan, known as the "Khorasan province."
Blood-soaked people being treated at the scene of the twin suicide attacks are among the photographs and witness reports circulating on social media.
An Afghan man who was close to the first explosion reported that some persons looked to be missing body parts following the incident. A young girl died in his arms, according to another witness who spoke to Fox News.
A White House official told The New York Post that President Biden has been briefed about the explosions.
When the first attack happened, he was in a security briefing on the situation in Afghanistan.
As the Aug. 31 deadline to leave from the country approaches, the U.S. and its allies have warned of a probable terror assault by ISIS-K, the Afghan branch of ISIS.
A State Department security advisory also advised people to "leave immediately" at three specific airport gates.
According to Secretary of State Antony Blinken, up to 1,500 American citizens are still stranded in Afghanistan.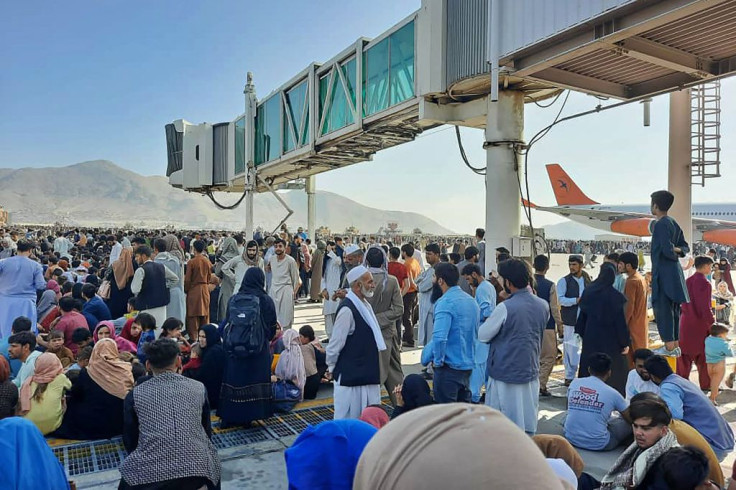 © 2023 Latin Times. All rights reserved. Do not reproduce without permission.