As international forces continue to assist in evacuating thousands of Afghans to escape the Taliban, a shootout broke out at Kabul's Hamid Karzai International Airport early Monday morning.
Associated Press said one Afghan security member was killed. Three others were wounded after a gunfight between Afghan security forces and unknown attackers on Monday.
Meanwhile, the German military said per CNBC that both American and German soldiers were involved in the fighting and that all German forces were uninjured.
Mothers gave their kids to foreign soldiers over barbed-wire barricades at Kabul's airport this week. At the same time, Afghan people clung to planes as they took off in desperate attempts to exit their country.
The violence comes as the Obama administration faces a barrage of criticism over the consequences of its withdrawal from Afghanistan.
Since Aug. 14, the U.S. military has evacuated 28,000 personnel from Afghanistan, according to Biden. Still, many thousands of Americans remain in the country. Despite thousands of troops on the ground, the Pentagon announced last week that the U.S. military could not guarantee safe passage for Americans to Kabul airport.
Biden authorized the Civil Reserve Air Fleet on Sunday, a seldom-used procedure in which the Pentagon orders private airlines to deploy planes to aid in the evacuation of Afghans. The activation affects 18 planes from six different airlines.
According to Biden, the administration is considering extending the timeline for completing the troop withdrawal beyond the original Aug. 31 deadline.
"Our hope is we will not have to extend, but there are going to be discussions, I suspect, on how far along we are in the process," he said per CNBC.
According to Reuters, which cited two unidentified Taliban officials, the Taliban will not extend the deadline until Aug. 31. According to the reports, no Western officials have approached the organization about extending the deadline.
During a visit to Singapore on Monday, Vice President Kamala Harris told reporters per CNBC that they are currently focused solely on evacuating American citizens, Afghans who cooperated with them, and Afghans who are vulnerable, including women and children.
"We have a responsibility and we feel a deep commitment to making sure that folks who helped us are safe," Harris added, saying that there should be a "robust analysis of what happened" later.
According to a diplomatic cable acquired by NBC News, Afghan staff at the U.S. embassy in Kabul are "very discouraged" by the U.S. evacuation attempts, despite her assurances.
The Taliban, with whom the U.S. had signed a cease-fire agreement, made a series of startling wins across the country until seizing Kabul on Aug. 15, practically gaining entire control of the country in less than ten days.
As a result, Islamic extremist insurgents now have access to billions of dollars of American weapons that the Afghan military abandoned after two decades of training and equipping by the U.S.
Thousands of Afghans have attempted to flee in desperate attempts, particularly those who collaborated with U.S. forces and fear Taliban retaliation. While Biden has stated that these Afghans will be assisted, advocacy groups estimate that up to 20,000 Afghans remain in the country, unable to board an evacuation flight due to bureaucratic obstacles or a lack of safe passage to Kabul airport.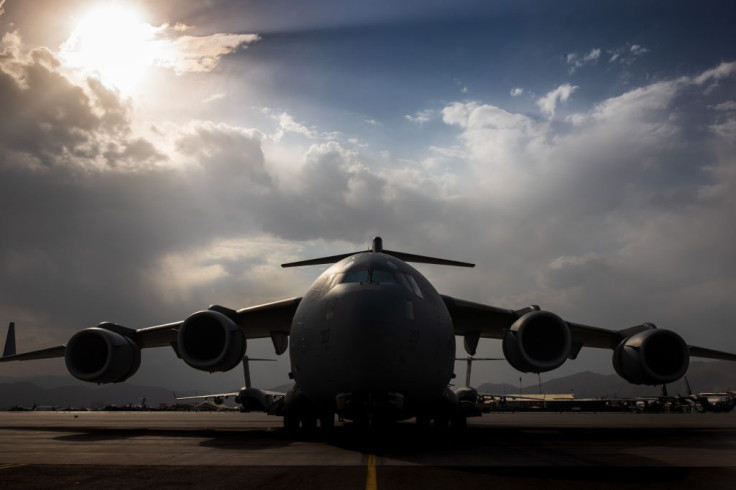 © 2023 Latin Times. All rights reserved. Do not reproduce without permission.