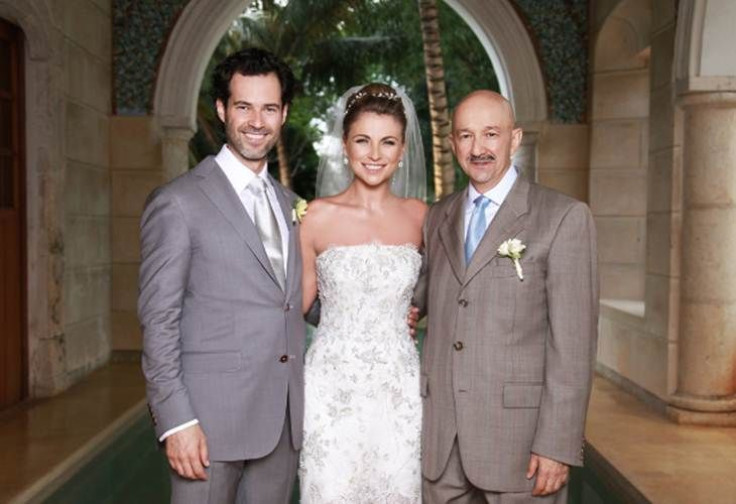 Mexican darling Ludwika Paleta married Emiliano Salinas, son of ex-president Carlos Salinas de Gortari (known for his suspicious presidential victory after the system that counted the votes crashed twice and his economic reforms), in front of a not too shabby crowd of 700 attendees including entertainment personalities and political figures.
Among the celebrities that witnessed the gorgeous ceremony, held at the Hacienda Tekik de Regil -- 20 minutes from Mérida, Yucatán -- were Maki and Juan Soler, Anahí, Ana de la Reguera, Dominika Paleta, Érick Elías and Karla Guindi.
The political presence was prominent too, with current president Enrique Peña Nieto and wife Angélica Rivera making a special appearance; Chiapas governor Manuel Velasco, Mexico City's ex governors Arturo Montiel rojas, Emilio Chuayffet and Alfredo del Mazo; Manlio Fabio Beltrones, Enrique Jackson and Jorge Emilio González, only to name a few.
The guests were escorted by police and private security hired to respect their privacy and shield paparazzi and intruders from revealing the top secret details, decoration and the dress, that ended up being a strapless, asymmetric gown that caused a lot of controversy because it was not a typical bridal design.
If you're familiar with Telenovelas, you know that Ludwika Paleta is one of the most beautiful Mexican actresses that got her start in the 1989 soap "Carrusel," and continued to work with big names like Gael García Bernal, Angélica Rivera, Eduardo Palomo and Jaime Camil. She married Plutarco Haza when she was 20, with whom she has a 13-year-old son. The couple divorced in 2008 and almost two years later she met Emiliano Salinas, her current husband and one of Mexico's most eligible bachelors.
© 2023 Latin Times. All rights reserved. Do not reproduce without permission.