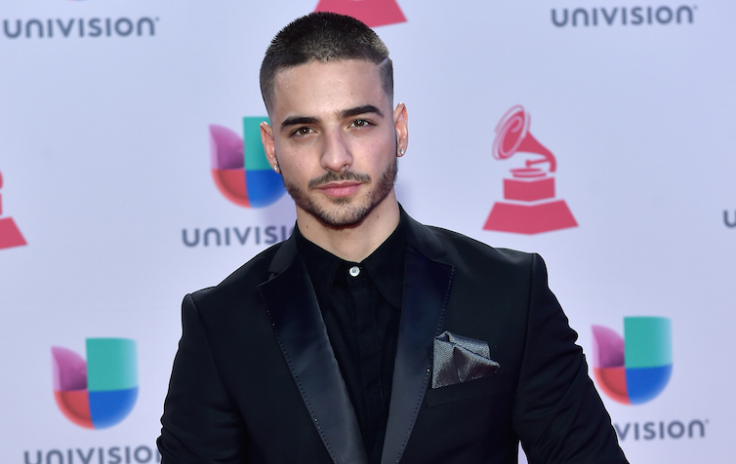 Maluma melts hearts everywhere he goes. The 22-year-old Colombian singer has fans all over Latin America gushing over his sex appeal, reggeaton moves and his incredibly charming accent.
But how does the "Borro Cassette" performer approach girls he is interested in?
"Hey what's up mamacita? Let's go out, where are we going?" the urban star replied when he was asked to reveal his favorite pick-up line.
After a few seconds, the Medellín native attempted to come up with a better version of the line.
"What's up my love? What's going on? Where are we going?" he continued. "What's up my love? What's up mamacita? Where are we going? Are we going out or what?"
The kid sure has a way with words but that does not seem to matter because women keep falling at his feet.
Last month, several Mexican publications reported the suave crooner was making a habit of smooching his admirers on stage during his concerts.
Fans across the country began posting videos on social media where he can bee seen smoothly approaching girls from different states as he serenades them and then, sensually kissing them on the lips.
But one fan allegedly got a little more than just a kiss on the lips. During an interview with Radio Fórmula's René Franco, TV host Grette Durán confessed she received an invitation to the singer's hotel after their live make-out session.
"When we were alone, he kissed me and we did it twice," the Cuban entertainer told Franco. "He is very passionate and has beautiful legs. He is like, hand-made. He told me he didn't like it when I talked a lot. When I was on top, he wouldn't let me move. Later, he turned me around. I'm telling you, he likes women to be submissive."
Maluma denied having any sort of intimacy with Durán days after the story made the headlines.
"I don't know anything," he said. "She thinks we had something, but there are a lot of girls that say that every other day. I don't know, I don't know, she went home and I went to my hotel. I don't know, I don't know anything about her."
© 2023 Latin Times. All rights reserved. Do not reproduce without permission.